Epoch Times: Anticipation High for Chinese Dance Contest Final (Photos)
August 25, 2008 | By Helena Zhu
Epoch Times Staff Aug 24, 2008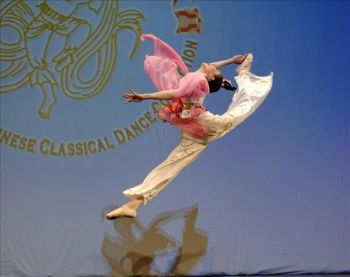 (Dajiyuan/The Epoch Times)
NEW YORK--Thirty of the world's best Chinese Classical dancers will perform on Sunday in the final of the International Chinese Classical Dance Competition. The stage at Town Hall Foundation in Manhattan, New York will come alive with ancient tales of China's rich past.

The final announcement of the winners and award ceremony will be held at Manhattan Center Studios' Hammerstein Ballroom after a show by the Divine Performing Arts company.

The 41 semi-finalists of the International Chinese Classical Dance Competition on Aug. 22 impressed the judges and audience at Town Hall Foundation.

The contestants showed exceptional efforts today in conveying the inner meaning of their dances through technique, bearing, and form. Together, they are reviving the rich Chinese culture, history and values through their exhilarating movements and expressions.

"I think today the contestants showed better performances than yesterday. There isn't the tight, competitive feeling present. The overall performing condition and state of mind are pretty good," said judge Vina Lee.

The contestants reveal that this competition is a wonderful opportunity for them to improve and learn from one another other in classical Chinese dance and culture.

"Even though we all grew up overseas, we all have Chinese blood in us where we share the same love for Chinese classical dance. To have an opportunity to learn such pure dance overseas is something very valuable to all of us," said Meijing Dong from the Senior Women's Division.

Rooted from the dynamic 5,000 years of Chinese history, the majority of performers this year have chosen to portray legendary heroes and tell stories and tales through their aesthetic movements.

William Li from the Junior Male Division acted out young General Yue Fei from the Song Dynasty in his courageous dance during the Individual routine.

"I try to show my inner strength through poses during my dance. The poses are different if I was to portray a kid, but Yue Fei is a hero and a general, so the poses, feeling, and movements are really open and extended."

Another finalist, Brian Nieh shared his experience in playing Suwu, a high ranking official who was sent on a mission and got captured by enemies. The enemies tried to bribe him to surrender, but Suwu was clear on his stand and ended up being a shepherd for 19 years.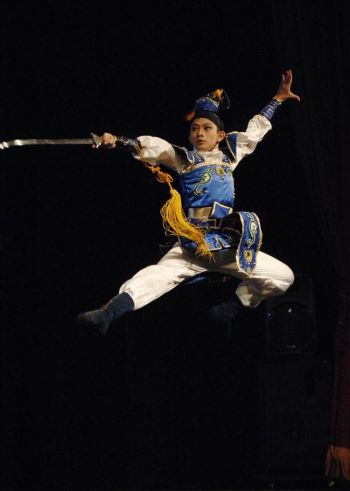 (Dajiyuan/The Epoch Times)

"Suwu is certainly much older than me, but regardless of what type of character, when you try to act the part of the character, you need to study the character from his or her perspective, and understand his or her way of thinking and morality. So while portraying him, I looked into a lot of his stories to get this feeling," said Nieh.

"The values of culture and loyalty in Suwu's story are crucial to people nowadays and to me, but if you ask people today to read the book on Suwu, they may not understand him, especially the reason why he was so persistent on his stand of not surrendering to his enemy. Nevertheless, the book really taught me a lot as I portrayed Suwu in my dance."

The judges today are amazed at the contestants for their genuine understanding and manifestation of Chinese classical dance. They chose from a wide range of topics such as heavenly maidens, little monks, and Yue Fei.

"Chinese classical dance is a tradition passed down by history through dynasties. It is a gift inborn in every Chinese person that came down from different dynasties and culture. The dance is passed along with a special characteristic known as the unique Chinese style. This style is not only the inheritance of movements, but it also includes the cultural value," said Vina Lee.

"During early stages of inheritance, there was not much on bearings and forms, but the movements are preserved and passed down. In the courts of every dynasty, the inheritance on the Chinese style was never disconnected. The dance was not organized systematically and just took the form of passing down through ethnic dances in all parts of the country. Now, we are just bringing out the dance in a systematic way, but that's just a small aspect of Chinese classical dance, because most importantly, it is supposed to convey deep feelings from the heart."

The rich culture behind the Chinese classical dance has impacted the contestants greatly both in terms of their inner character and the expressiveness of their dance.

"Chinese classical dance has a lot of technique in it, and there's a lot of strength in it. If you want to work with someone who's very tough, you can use a lot of those techniques to express the meaning of the character that you want to dance. Chinese dance can express everything, because there's technique, there's clothing, expression, and your eyes," said Selena Ren from the Senior Women's Division who portrayed a heroine with strength and dignity.

Judge Yi Cao emphasized that Chinese classical dance includes three aspects of bearing, form and technique, but it is distinct from ballet, Chinese opera, martial arts and modern dance. Chinese classical dance is built on rich historical aesthetic values, bearing ancient Chinese style.
Source http://epochtimes.com/gb/8/8/24/n2239304.htm