Israel: Wide Support Condemning the CCP's Persecution of Falun Gong (Photos)
August 02, 2008 | By a practitioner in Israel
(Clearwisdom.net) On July 22, 2008, a rally was held near the Israeli Parliament building in Jerusalem to support 22 Members of the Israeli Parliament who co-signed a letter condemning the Chinese Communist Party's (CCP) persecution of Falun Gong.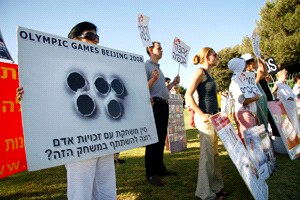 Rally in front of the Israeli Parliament building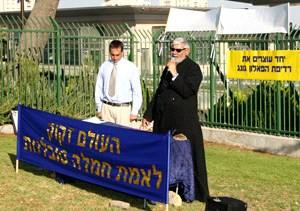 Father Abu Hatum Massoud gives a speech
Rabbi Haim Cohen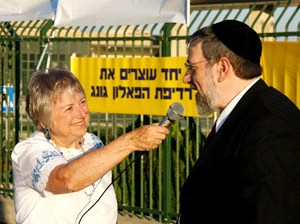 MP Rabbi Michael Melchior is interviewed
The rally included religious leaders, scholars, MP Rabbi Michael Melchior, and human rights supporters. The attendees condemned the Chinese Communist Party's persecution of Falun Gong and the CCP's inhuman atrocities of organ harvesting from living Falun Gong practitioners. They also condemned the CCP's infringement of human rights, freedom of speech and the press. Speakers at the rally called on Israel to join the world in condemning the CCP's atrocities.
"I came here to raise my voice against organ trading," said Father Abu Hatum Masud, a Greek Orthodox priest from Nazareth, referring to the evidence indicating organ harvesting from living Falun Gong practitioners taking place in China. "We still remember what happened in the 1940's. If we don't raise our voices against such things, who will?" he said.
Rabbi Professor Haim Cohen from the organization "Rabbis for Human Rights," said, "Let us all pray as Falun Gong does, not only with our hands but with our actions as well. Let parliaments all over the world hold discussions [about Falun Gong], not only indoors, but also in parks, churches and synagogues."
MP Rabbi Michael Melchior came to the rally to express his support. He said that he will do anything in his power to help the whole world notice what is going on in China, stating that crimes cannot be hidden under the mask of a sports event.
In his speech at the rally, Rabbi Melchior said, "I have read quite a lot of material about Falun Gong, and I understand why the values of Falun Gong threaten the communist regime in China. They are deep values of tolerance and the pursuit of truth, which can be really very threatening [to the CCP]."