Taiwan: Press Conference Held Regarding "Million Signatures Campaign" (Photo)
(Clearwisdom.net) On August 6, 2008, Taiwan Legislator, Ms. Tien Chiu-Chin invited human rights activists to a press conference held in the Legislative Yuan and announced that more than 1,350,000 people around the world had signed a petition to urge the Chinese Communist Party to stop persecuting Falun Gong. The documents have been delivered to International Olympics Committee Chairman Rogge, and it will be discussed on the U.N. Human Rights Committee Meeting in September.
"Million Signatures Campaign" coordinator Ms. Chu Wan-Chi pointed out that thirteen countries held press conferences before the Olympics, calling for a stop to CCP human rights violations. There were 650,000 signatures collected in Taiwan alone. More than 100,000 signatures were collected in Australia, which broke the record for the amount of signatures for any human rights petition in the country. The Australian Parliament passed a resolution asking the CCP to stop persecuting Falun Gong.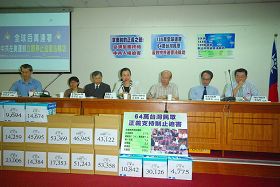 From left to right: Taiwan Rescue Persecuted Falun Gong Practitioners Association Chair Ming Chu-Cheng, Taiwan Human Rights Promotion Association Secretary, Ms. Cai Ji-hsin, Falun Dafa Association Secretary Chang Ching-Hsi, CIPFG member and Taiwan Legislator, Ms. Tien Chiu-Chin, Amnesty International Taiwan Branch Secretary, Attorney Li Sheng-Hsiung, Judicial Reform Foundation CEO Mr. Lin Fengjung, former President Office Human Rights Consulting Committee member Mr. Ford Liao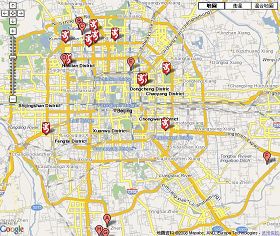 CIPFG released a guide to the persecution for Olympic reporters' reference
Falun Gong Most Severely Persecuted Group in China
Former President's Office Human Rights Consulting Committee member Mr. Ford Liao has been investigating China's human rights for many years and published reports with the Taiwan Democratic Foundation's support. Since 1999, he has not been able avoid the CCP persecution of Falun Gong in any year. This persecution has two phenomena; first of all, it has been long term, and secondly, the most severe human right violations are related to Falun Gong.
Mr. Liao pointed out that there are many non-governmental organizations voicing support for Falun Gong, but not enough from the government. He believes the Taiwanese government should actively express their belief in human rights, express their steady standpoint to the mainland government, and stop the CCP from persecuting Falun Gong. He emphasized that they have failed to persist in their human rights values, and failing to support Falun Gong practitioners will cause pain to the Taiwanese people.
CIPFG Asian Branch member, Taiwan Legislator, Ms. Tien Chiu-Chin stated that the CCP conducts a systematic and strategic persecution of Falun Gong, just like Nazi's persecuted the Jews, and it is the most severe crime in human history. The Taiwanese people are the luckiest, because they can enjoy freedom without being threatened, and they should help the not-so-lucky people. During this petition, 650,000 signatures were collected in Taiwan, the highest for any of the 133 countries in which the petition was circulated.
CCP Widely Arrests Falun Gong Practitioners Before the Olympics
Ms. Chu Wan-Chi said the petition ended on July 27, 2008, is in 29 languages, and has 1,350,000 signatures from people in all walks of life.
In addition to the people that want the Taiwanese government to pay attention to the 650,000 people's support to Falun Gong, Ms. Chu also announced Torture Outside the Olympic Village: A Guide to China's Labor Camps in hopes that the media can interview those being tortured in labor camps while the Olympics are going on.
Taiwan Rescue Persecuted Falun Gong Practitioners Association Chair Ming Chu-Cheng pointed out, "Since the CCP applied to host the Olympics, it has spent most of its time improving the physical aspects like the venues, but human rights have not improved at all."
He stated that from January to the end of June this year, more than eight thousand Falun Gong practitioners have been arrested, and the persecution of Falun Gong has gone beyond tolerance. Lawyer Gao, sympathetic to Falun Gong, spoke for Falun Gong, and he is also being tortured mentally and physically with very low means. Their goal is to force Lawyer Gao criticize Falun Gong, but he has not given in.
Torture Outside the Olympic Village: A Guide to China's Labor Camps
The CIPFG compiled Torture Outside the Olympic Village: A Guide to China's Labor Camps. This guide is 20 pages long, focused on seven facilities in six cities: the Beijing Tuanhe Labor Camp, the Beijing City Women's Labor Camp, the Tianjin Jianxin Women's Labor Camp, the Shenyang Masanjia Labor Camp, the Shanghai Tilanqiao Prison, the Qingdao Labor Camp, and the Qinhuangdao First Detention Center. According to the U.S. State Department's 2007 report on human rights in China "some foreign observers estimated that Falun Gong adherents constituted at least half of the 250,000 recorded inmates" in China's vast labor camp system.

The polished exteriors of China's 'Re-education Through Labor' (RTL) facilities belie the horrors within. Shown: Tuanhe RTL Camp (left); Gao Rongrong, a Falun Gong practitioner who was incarcerated in Masanjia and tortured to death (right).
In this guide, it detailed that only 30 kilometers away from the Olympics main venue, the "Birds nest," inside the Tuanhe Labor Camp, a large number of Falun Gong practitioners are being electric baton-shocked, deprived of sleep, brainwashed, and forced to package chopsticks under extremely non-sanitary condition. Prisoners labor for over 16 hours per day.
The same is true for the situation in the Beijing City Women Labor Camp; 800f the detainees are Falun Gong practitioners out of around one thousand detainees, and they are forced to go through brainwashing, injections of nerve-damaging drugs, and slave labor to produce chopsticks, slippers, stuffed animals, etc.