Thirty-five Representatives of U.S. Congress Sign Open Letter to President Bush and Call for Investigation of Flushing Incident (Photo)
(Clearwisdom.net) On July 29, 2008, an open letter to President Bush that was initiated by Congressman Tom Tancredo and signed by a total of 35 representatives of the U.S. Congress was sent to the White House. The letter calls on President Bush to direct the Justice Department to investigate the frequently organized attacks on Falun Gong practitioners.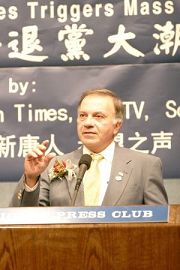 Congressman Tom Tancredo
Since May 17, Chinese Communist Party (CCP) mobs have attacked Falun Gong practitioners in Flushing, New York. The violent incidents caught the attention of U.S. legislators. For several weeks, many Congress representatives have attended forums, press conferences, and rallies and condemned CCP mobs for their violence in the U.S. Congressman Tancredo recently initiated an open letter to President Bush. Thirty-four other representatives of the U.S. Congress then signed the letter.
The letter states, "As you may know, over the last several months, groups of Falun Gong practitioners have been attacked by violent mobs in Flushing, Manhattan, and Brooklyn. We are concerned that these attacks may be part of a broader, more organized effort, and we hope you will direct the Justice Department to investigate."
Congressman Tancredo continued, "The Chinese Consul General in New York City, Mr. Keyu Peng, reportedly acknowledged that his office played a role in organizing and supporting the attacks, adding that 'we have to be very careful with this kind of [event]' to avoid being suspected of involvement."
The letter stated, "We hope you will thoroughly investigate these allegations against Mr. Peng and other Chinese government officials here in the United States. If it is determined that the Chinese authorities are misusing their diplomatic privileges to orchestrate these kinds of violent attacks, or provide resources for subversive activities, those individuals involved should be expelled from the United States and a formal protest lodged with the Chinese authorities.
"Moreover, any non-U.S. citizen found to be engaging in acts of violence or intimidation against religious or political groups at the behest of the Chinese government should have their visa revoked and be deported.
"It is well-known that the Chinese government has used its official power and resources to marginalize and persecute Falun Gong practitioners and other dissident groups inside the People's Republic of China. We should not and cannot tolerate efforts by the Chinese government to expand this campaign of intimidation to communities inside the United States."