Grand March and Candlelight Vigil Held in South Taiwan to Call for an End to the Persecution (Photos)
July 26, 2008 | By Wang Ching-han and Su Rong
(Clearwisdom.net) On July 20, 2008, practitioners in south Taiwan held a grand march, "Supporting Forty Million Chinese People Quitting the CCP and its Affiliated Organizations" and a candlelight vigil in Kaohsing to call for an end to the persecution.
Spokesperson Mr. Cheng Chi-mei of the South Taiwan Falun Gong Association said during the candlelight vigil, "The number of people renouncing the CCP and its affiliated organizations in the website of The Epoch Times is over forty million and is still increasing fast. The brutal persecution was initiated by Jiang's faction nine years ago. After practitioners' continuous explanations of the facts, people have come to know the CCP's evil nature and are renouncing the CCP and its affiliated organizations."
The Divine Land Marching Band leads the procession
The peaceful procession in Kaohsing
Bright banners with words, Truth-Compassion-Tolerance
Exercise demonstration
Commemorating the practitioners tortured to death
Residents read the flyers right away after accepting them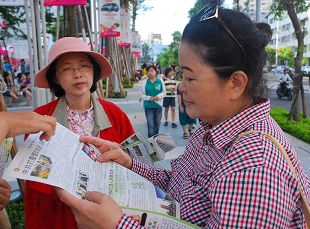 Residents read the flyers right away after accepting them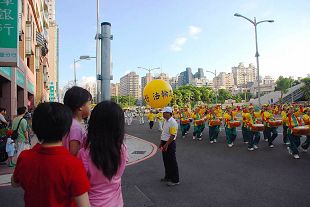 Spectators

Residents sign the petition to support Falun Gong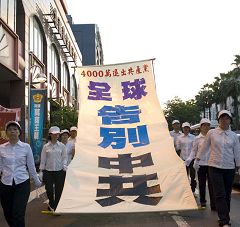 The procession calls on people to learn about the CCP's evil nature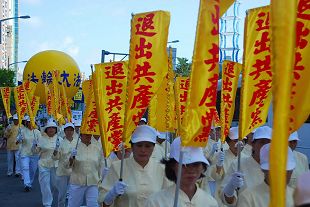 The procession calls on people to learn about the CCP's evil nature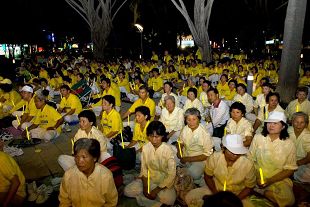 Candlelight vigil to commemorate the Falun Gong practitioners who were tortured to death by the CCP
On the afternoon of July 20, a procession of more than one thousand people proceeded through the busy downtown streets of Kaohsing. Mr. Zeng and his wife from Pingdong brought their two children to participate in the march. The whole family practices Falun Gong and experiences the grace of Dafa. The two children said they were not tired at all.
Mr. Hong stood on the sidewalk and watched the march. He said he did not practice Falun Gong, but after learning the meaning of the march, he supported Falun Gong and condemned the CCP's persecution.
Mr. Liu, a Ph.D student in the Department of Business Management at Sun Yat-Sen University, came to participate in the event with many of his classmates. He said the event was very meaningful since the CCP's persecution of Falun Gong has lasted nine years. He wished more people would pay attention to the persecution, especially the CCP's organ removal from living Falun Gong practitioners. He thought that the government should speak out on human rights issues. It should not keep silent because of economic interests but condemn the persecution and help stop it.
A restaurant owner said during the interview, "I have many friends who practice Falun Gong. They get up early in the morning to have group practice. I heard about the CCP harvesting organs from practitioners. Today's event can let people know about this issue and call for an end of the persecution. I support today's event very much. Keep it up!"