Vienna, Austria: Practitioners Hold Information Days to Expose the CCP's Clandestine Overseas Activities (Photos)
(Clearwisdom.net) Since May 17, when the Chinese Communist Party (CCP) began instigating hoodlums in Flushing, New York to attack volunteers at the Quitting the CCP Service Center and to interfere with other Falun Gong activities, practitioners in Austria have held Information Days on every Saturday in Naschmark, Vienna to expose the CCP's exporting its persecution of Falun Gong overseas. The Vienna China Center is located in Naschmarkt, which has a large Chinese immigrant population.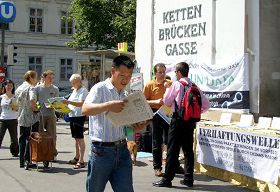 Information Day in Vienna
Several Vienna residents read truth-clarifying information
A local resident learns the truth about the persecution
Naschmarkt is also famous for its food market. On weekends, many Vienna residents come here to shop. When passing by the Falun Gong information table, many people stop to learn about Falun Gong and the persecution.
Upon hearing the news that the CCP has hired thugs to attack Falun Gong practitioners in Flushing, many residents expressed their indignation at the CCP's actions and their support for the Information Day.