On June 18, the Minghui website, with Master's permission, published Master's "Fa Teaching at the 2008 New York Conference", which did not include the question and answer session. Shortly thereafter, maliciously fabricated counterfeit versions of the scripture and videos appeared on Boxun, Youtube, and other websites outside of China, with the intent to confuse public opinion, disrupt the Fa, and mislead people. In recent days these fake scriptures have made their way to some areas in China. We hope that Dafa disciples, especially those in Mainland China, will not be moved or be interfered with by these despicable tricks on the part of CCP agents.
…
(Clearwisdom.net) On May 24 at the 2008 New York Fa Conference, Master compassionately taught the Fa at the conference site. After Master left the conference site, with good intentions the conference coordinators announced that they would play the video of Master teaching the Fa for the Dafa disciples attending the conference. We ask that all the disciples who attended to try to carefully recall, if in the process of Master teaching the Fa to the video being played, if anyone around you was making video recordings on their own, so that we can determine who these people were. We ask that everyone put a high priority on this.
(Clearwisdom.net) At around noon on June 25, 2008, nearly one thousand Falun Gong practitioners held a large rally in front of the Parliament Building in Canberra, Australia, calling on the Australian Government to take action to stop the Chinese Communist Party's (CCP) persecution of Falun Gong practitioners. The rally also protested CCP's extension of violence to overseas.
(Clearwisdom.net) June 22, 2008, was the last day of the Toronto International Dragon Boat Race Festival. Many local residents and tourists came to the beautiful Centre Island to take part in this grand occasion. Toronto Minghui School teachers and students came to the island to introduce Falun Dafa.
~ Other Community Events ~
~ Accounts of Persecution ~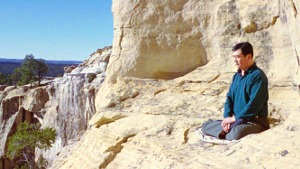 Master Li quietly watching the world from amidst the mountains after leaving New York following July 20th, 1999. (Published January 19, 2000)