Mr. Jiang Honglu in Critical Condition After Six Years in Prison (Photo)
(Clearwisdom.net) Mr. Jiang Honglu is a resident of Mishan City, Heilongjiang Province. On February 12, 2002, Mr. Jiang was severely wounded by gunshots fired by Meng Qingqi (male), Director of the Politics and Security Office of the Mishan City Police Department. In October, 2002, Mr. Jiang was sentenced to 14 years in prison, and for the past six years he has been in the Mudanjiang Prison. Mr. Jiang is very thin, suffers from severe malnutrition, and has difficulty speaking clearly. His mouth is disfigured, his arms tremble constantly, and his reflexes are slow. He was diagnosed with multiple cerebral infarction, and suffers from high blood pressure. Mr. Jiang's life is in danger.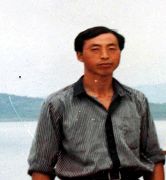 Mr. Jiang Honglu
Mr. Jiang Honglu's family is appealing for his release. They have not made much progress, as the administration of the prison shifts responsibility onto others.
Detailed case of Mr. Jiang Honglu (1999-2005) at http://www.clearwisdom.net/emh/articles/2006/7/31/76160.html
Chen Shougang (male), Director of Mudanjiang Prison: 86-453-6404715-8000 ext. 8388 (Office), 86-13904676888 (Cell)
Yu Jinghe (male), Political Commissioner of Mudangjiang Prison: 86-453-6404715-8000 ext. 8388 (Office), 86-13904835888 (Cell), 86-13904935558 (Cell)
Lu Xianming (male), Director of 610 Office, Mudangjiang Prison: 86-13836306983 (Cell)
June 18, 2008