Boston: Falun Gong Popular at Health Day Event (Photos)
June 23, 2008 | By Minghui correspondent Cheng De
(Clearwidom.net) On June 17, 2008, Falun Gong practitioners in Boston participated by invitation in Adult Health Day sponsored by the YMCA in East Bridgewater, Massachusetts. Practitioners set up a booth, taught the Falun Gong exercises for free, and taught people how to fold paper lotus flowers. Their activities won high praise.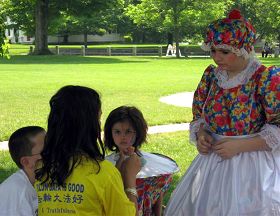 Teresa learns how to fold a paper lotus and would like to learn Falun Gong.
Many local residents showed great interest in Falun Gong. After hearing an introduction to Falun Gong, one local resident said with excitement, "Falun Gong is what I need! Next Tuesday will be a big day for me. I will go to the exercise site to learn it!"
A woman who had been influenced by the CCP's slanderous propaganda questioned the Falun Gong practitioners. A man who doesn't practice Falun Gong told her, "I am Catholic. If Falun Gong wasn't good, I wouldn't let my daughter practice it." He took the initiative to introduce Falun Gong to the people at nearby booths. Two women learned Falun Gong after hearing his introduction.
Practitioners' years of community service have won them praise and support from community groups. Local residents are willing to step forward and defend Falun Gong.