Belgium: Falun Gong Practitioners Hold Activities During a Cultural Festival in the City of Leuven (Photo)
(Clearwisdom.net) The Belgium International Cultural Festival attracted tens of thousands of people to the college town of Leuven on May 30th, 2008. Falun Gong practitioners from Belgium set up a booth during the festival to demonstrate the Falun Gong exercises, tell others about the benefits of the practice and raise awareness about the persecution of practitioners in China.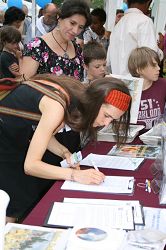 People sign a petition calling for an end to the persecution of Falun Gong
While festival-goers were watching Falun Gong practitioners demonstrating the five exercises with interest, a practitioner was explaining to them what Falun Gong is, how he has benefited from practicing and how Falun Gong is being slandered and persecuted in China. Many people wanted to learn Falun Gong. Upon learning that practitioners offer free instruction of Falun Gong in parks in big cities every weekend, many said they would come to learn.
Even more people signed the petition to stop the persecution. A signature drive campaign was launched by the Coalition to Investigate the Persecution of Falun Gong calling for an end to the persecution before the Olympic Games. By the afternoon, more than 700 people had signed the petition.
Although many other booths were also distributed balloons, children visiting the festival still came to the practitioners' booth for balloons reading "The World Needs Truthfulness, Compassion and Tolerance" and they waited in a long line to get one. Many children were so interested in the lotus flowers made with paper that they sat near the desk trying to learn how to fold them. Exquisite pink lotus flowers with a bookmark hung underneath that said "Falun Gong is Good", was a gift for children that was very popular, as well.
Source: http://clearharmony.net/articles/200806/44784.html