The People Responsible for the Death of Falun Dafa Practitioner Mr. Gu Qun, from Dalian City, Liaoning Province (Photo)
(Clearwisdom.Net) While distributing truth-clarifying materials, Falun Dafa practitioner Mr. Gu Qun from Dalian City, Liaoning Province was arrested on March 16, 2008 by police from the Tianjin Street Police Substation. The next day he was moved to Yaojia Detention Center of Dalian City. Mr Gu started a hunger strike in protest and suffered brutal force-feeding by the police. His body was severely damaged.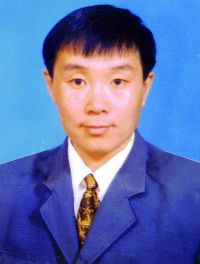 Falun Dafa Practitioner Mr. Gu Qun from Dalian City
On April 7th, Mr. Gu was taken to the Third People's Hospital. The hospital decided to keep him because of his poor physical condition. However, the police insisted on taking him to be treated at the police hospital. But they did not go to the police hospital, and he was taken directly back to the detention center.
At 9 a.m. on April 8, the police again sent Mr. Gu to the Third People's Hospital. In fact what they sent was his dead body, hoping to shift their responsibility onto the hospital. Afterwards the detention center made up evidence about his death and withheld the news. His family was notified of his death after 2 p.m. on April 9.
The Responsible Parties who caused Mr. Gu Qun's Death:
Director of Tianjin Street Police Substation of Zhongshan Branch, Dalian City Police Station: Xv Ming (he is the person responsible for arresting Mr. Gu Qun): 86-411-2635874 (Office), 86-13804255958 (Cell)
Police Guards: Wang Yi, Jin Xin, Lin Weidong, Zhan Shengwei, Sui Guobin, Zheng Liyuan, Wang Shiyi, Li Ming, Liu Hongcai, Zhang Jieshi, Zhang Haifeng, Sun Wei, Hou Jiancheng, Yan Xiangcheng, Wang Xianyao, Li Jing, Guan Yanchun, Tian Yousheng, Wang Guangxiang, Zhou Nanlu, Yan Kexin, Li Dongdong.
Dalian City Yaojia Detention Center Team Leader: Sun Lijun
Dalian City Detention Center: 86-411-86870728
President: Wang Hongtao
Vice President: Chen Weidong, Zhou Guichun
Director of the Jail: 86-411-86871422
Political Instructor: 86-411-86870181
May 30th, 2008