Petroleum Exploration Engineer: DPA Presents Beauty and the Light of Hope (Photo)
(Clearwisdom.net) Mr. Zuoqian Xu is a petroleum exploration engineer who has been living in Calgary for more than 30 years. After watching the Divine Performing Arts (DPA) Chinese Spectacular, he said that the show portrayed authentic Chinese culture and lights up hope for China.
Mr. Xu saw an advertisement for the show in London during a business trip. However, he was not able to see the show then, due to travel conflicts. Upon learning that the show was coming to Calgary, he bought tickets immediately and told his college-aged daughters who were studying in other cities to come back home for the show.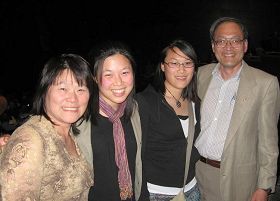 Mr. Xu and his family
During the intermission, Mr. Xu was very happy to share his reflections with a reporter. The following is a transcript from a recorded interview.
I am so happy to be able to see this performance of Divine Performing Arts. In all my life, I have never seen such a supreme show which is so powerful and moving.
Many people claim that China now is very strong. However, I still have doubts. When talking about China, people will only connect it to its cheap products of poor quality and the very materialistic lifestyle in its showcase cities. In contrast, the Tang Dynasty was highly respected by countries afar because of its rich culture and profound compassion to embrace differences. China today has none of these features.
The Chinese Spectacular presented authentic Chinese culture, attracting not only Chinese people but also many westerners. It gave us an opportunity to experience the profound Chinese culture. As you have heard in the theater, many western audience members said, "I am Chinese tonight." From the warm applause and exclamations, you knew that the audience was overwhelmed by the beauty and values portrayed by the show.
The piece that moved me to tears was "The Risen Lotus Flower," which portrayed the firm belief of three female Falun Gong practitioners detained in a prison cell. One of the girls was brutally tortured and died consequently. The scene in which the Gods brought her to heaven was very touching and I felt so happy for her. This story reaffirmed an old Chinese saying, "Good will be rewarded and evil will meet retribution." This piece cast a drastic contrast between the bloody prison cell and the solemn and sacred heaven. It also helped us realize how great the Buddha Fa is and that belief can lead us through any pressure and difficulty.
I want to thank the artists of the DPA. Despite pressure and interference from the Chinese Communist regime, they have traveled around the world to spread our divine culture and traditional values, bringing us hope and beauty.