Radio Program Host: "I was brought to an ancient spiritual world beyond my imagination" (Photo)
May 04, 2008 | By Chen Jiazheng
(Clearwisdom.net) Divine Performing Arts held its second performance at Touhill Performing Arts Center (Anheuser-Busch Performance Hall) at the University of Missouri in St. Louis on May 1.
President of an Audio/Video Company: My soul was drawn out by the Erhu
Though participating in the production of many Hollywood movies, Brett Gregory Steen, president of At The Cross audio and video company, was touched by the music of the Chinese Spectacular. Mr. Steen said, "The Erhu performance was extraordinary and exciting. I felt my soul was drawn out and stayed there while the artist performed. I was touched by the power of the music."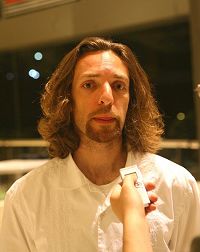 Brett Gregory Steen, president of an audio/video company
Mr. Steen has been composing music for more than 15 years. He said the music in the performance deeply touched him.
Mr. Steen said he had wondered about the word Divine in the company's name. He learned from the show that traditional Chinese music is about Buddha nature and can inspire people's Buddha-nature. He realized that in traditional culture, people were more conscious of spiritual principles in all aspects of life.
He said, "It was wonderful for the performance to conclude with Victory Drums. Along with the beating of the drums and my heart, I sat there with eyes closed and enjoyed the music. It seemed that I returned to my true nature. It was marvelous."
Mr. Steen said the choreography of the dancing was outstanding. He visited many places and watched many cultural performances, none of which could match DPA performance. He hopes that more people can see the performance. He said with a little regret that the performance concluded while he was still engrossed in the show.
Radio program host: I was brought to an ancient spiritual world beyond my imagination
Steve Engelmeyer, host of the radio broadcasting station of Washington University in St Louis, watched the performance and said excitedly that it inspired him to ponder the meaning of life. Mr. Engelmeyer said, "I felt the performance reached my soul. I began to think about where I came from. It was surprising that it brought me to an ancient and moving spiritual world beyond my imagination."
Mr. Engelmeyer said he was moved nearly to tears several times, especially during the song "Awakening." "I read the lyrics on the backdrop. Its meaning is so deep and had such impact."
Mr. Engelmeyer said that everyone should watch the performance. "I don't know how to express it. It has deeper meaning. It seems that I had many previous lives. Perhaps this is why I am so lost in this world. I don't know where I am from originally. The performance inspires me to do a self-search."
After concluding the second show in St. Louis, Divine Performing Arts headed for Cleveland, Ohio to continue its performance tour.