Taiwan: Divine Land Marching Band Invited to Perform at a School's 100-Year Anniversary Celebration (Photos)
May 04, 2008 | By Sun Bai
(Clearwisdom.net) 2008 is the 100 year anniversary of the Yongkang Elementary School in Tainan County, Taiwan. It is a rare event in the history of education in Taiwan. The special celebration was held on the evening of April 25. Many major Taiwanese political figures came to participate in the celebration. The school invited the Taiwan Divine Land Marching Band to lead the anniversary banner onto the celebration field. The band then gave a stationary performance.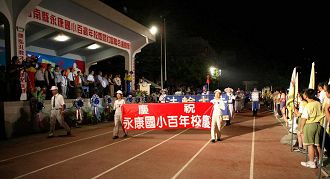 Divine Land Marching Band leading the banner onto the field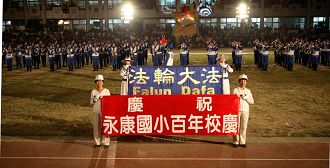 Divine Land Marching Band performed the songs "Falun Dafa Is Good" and "The Fa Rectifies the Cosmos"
The Taiwan Divine Land Marching Band is comprised of around 500 Falun Gong practitioners of various ages and occupations. These practitioners have gained their good health and higher moral levels through practicing Falun Gong. In order to let the world know about the beauty of Falun Gong, they frequently participate in a variety of events both in Taiwan and abroad. Last year, they were invited to lead the athletes onto the field at the Taiwan National Sports Meet. Their exquisite performing skills and noble style and appearance received applause and praise from the guests. Afterwards, they began to receive more and more invitations to give performances.
This year, the Yongkang Elementary School of Tainan County celebrates its 100-year anniversary and Principal Zhan Changwei specifically invited the Divine Land Marching Band to participate in the celebration.
The 100-year anniversary celebration received congratulatory letters from President Chen Shui-Bian and Secretary General Chen Tang-Shan of the National Security Committee. Guest participants included Tainan County Deputy Head Yan Chun-Zuo, national congresspersons, county legislation representatives and principals from many other schools. The anniversary celebration banner was led onto the field by the band with 125 practitioners. The scene was magnificent, and the performance that followed was outstanding and warmly received by the audience.