Ottawa, Canada: Divine Land Marching Band Performs at Tulip Festival Closing Ceremonies (Photos)
May 21, 2008 | By Minghui reporter Ying Zhi in Ottawa
(Clearwisdom.net) The Divine Land Marching Band returned to Ottawa to perform at the Tulip Festival on May 18, 2008. The band's performance to the May 2 opening ceremony was canceled due to pressure from the Chinese Embassy. Festival organizers later offered an official apology for canceling the performance at the last minute, and invited the band to perform at the closing ceremonies, instead.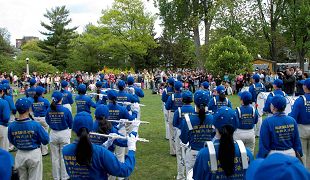 Hundreds of spectators watch the performance by Divine Land Marching Band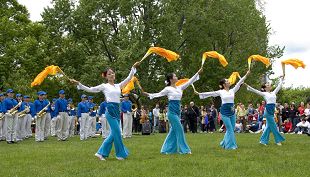 Toronto Lotus Art Troupe presents a traditional Chinese dance performance
According to journalist Elisabeth Johns' report in The Ottawa Sun on May 19, Canadian Tulip Festival president Teri Kirk remarked on the afternoon of May 18, "We are pleased the band could come and march. " She and the chairman of the Tulip Festival, David Luxton, had earlier officially apologized to the Divine Land Marching Band and re-invited the band to perform.
Falun Dafa Association spokeswoman Lucy Zhou said, "We accept the apologies of Tulip Festival organizers. We hope that every Canadian has an opportunity to listen to the beautiful music performed by Divine Land Marching Band."
Ms. Kirk said in an interview with the media, "We were pleased they (Divine Land Marching Band) accepted (our apologies)." "This is one of the strongest audiences we've had out all week." The live audience was more than 800, and about 200 audience members stood for an hour on end to watch Divine Land Marching Band's performance.
The band performed O Canada and The Maple Leaf Forever, Falun Dafa Is Good, Fa Rectifies Heaven and Earth, and Fa Drums and Trumpets Shake the Ten Directions. Toronto's Lotus Art Dance Company performed traditional Chinese dances during the intermission. The band then circled the Park and performed for about 20 minutes. The host of programs explained that all members of Divine Land Marching Band are Falun Dafa practitioners, and also briefly introduced Falun Dafa. The audience responded with enthusiastic applause.