Celebrating World Falun Dafa Day in Sydney (Photos)
(Clearwisdom.net) More than a thousand practitioners participated in World Falun Dafa Day festivities in Sydney, Australia. The events included a parade, vocal and dance performances and a Truthfulness-Compassion-Tolerance Art Exhibition.
Variety of Artistic Performances
Following the parade, practitioners held a rally and presented artistic performances in Chinatown. Mr. John Deller, representing the New South Wales Falun Dafa Association, said, "Falun Dafa cultivates both mind and body. It not only teaches exercises, but the practitioners also follow the principles of 'Truthfulness-Compassion-Tolerance' to guide their daily lives. The practice furthermore helps maintain society's moral standards. Former Chinese Communist Party (CCP) head Jiang Zemin used his power and ordered the persecution of Falun Gong practitioners. At least 3,137 practitioners have died as a result of the persecution during the past nine years. The CCP is involved in the most evil profiteering scheme to harvest organs from living practitioners and sell them for huge profits. This is a huge, historic disaster. I hope that people can further understand the wonderfulness of Falun Dafa from today's activities and provide support to stop the persecution in China."
Many Chinese and Australian audience members were drawn by the practitioners' exercise demonstration, as well as the vocal and lion dance performances. They read the printed information that was handed out to understand the facts. Many people signed their names to the petition letter to support Falun Gong. The performances concluded successfully with the chorus "Falun Dafa is Good" and a performance by the Divine Land Marching Band.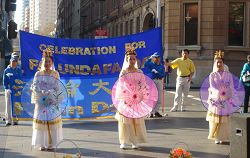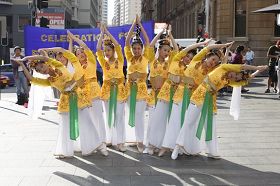 Practitioners dance to celebrate "World Falun Dafa Day"
Xiaohai and Xiaolan recently arrived from Mainland China to attend high school in Australia. They stated that the CCP's propaganda smearing Falun Gong is completely different than what they have been hearing and observing overseas. After they understood the truth, they immediately renounced their membership in the Young Pioneers, which they were compelled to join in China. They told the reporter, "How come there is such a difference between Falun Gong activities we see today and the Falun Gong our teachers in China told us about? We were told not to practice Falun Gong and were told of the 'Tiananmen Self-immolation Incident.' But the Falun Gong we see here is so peaceful and beautiful. We think the CCP has deceived us. We are quitting the Young Pioneers right now."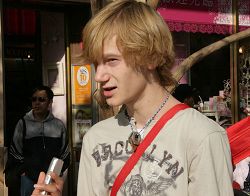 The beautiful music moved Australian high school student James BookerJames Booker from Mosman High School happened to pass through Chinatown, and he stopped and watched the celebration activities and performances for a while. He said that he had never heard of Falun Gong but was moved by the peaceful and beautiful music. James decided to spend some time to practice Falun Gong. He said, "This is the first time I have encountered Falun Gong. It is so peaceful and beautiful. I like it. I will start practicing Falun Gong in my leisure time. This is far better than playing games. This is beneficial for my body and mind, and it will purify my brain, too. In the meantime, I am shocked to hear that these wonderful people are being persecuted in China. This is unbelievable. I hope you will be safe and hope this persecution ends as soon as possible."
Truthfulness-Compassion-Tolerance Art Exhibition Moves People's Hearts
That same day, a Truthfulness-Compassion-Tolerance Art Exhibition was held in Darling Harbor Park next to Chinatown and drew many visitors.
People visit the Truthfulness-Compassion-Tolerance Art Exhibition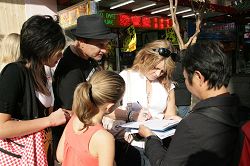 People signing their names to the petition letter to oppose the CCP's persecution of Falun GongMany signed a petition letter to show their support for respecting human rights. The letter petitions the Australian Government to support the efforts of people worldwide in stopping the CCP's persecution of Falun Gong. One person said, "Thank you for letting us know the facts about the CCP's persecution of Falun Gong. Nowadays, people live for money, but you are selflessly devoting your time and energy to people's freedom of belief and peace."
One of the Sydney Harbor administration officials who helped set up the booths signed the letter and invited five of her co-workers to the exhibition, who also signed their names. One Australian woman became a volunteer and went into the street to invite more passers-by to the exhibition. She told us, "I think everyone should come to see this exhibition and show their support."
Many visitors were shocked and indignant about the CCP's persecution of Falun Gong. They expressed their hope that Falun Gong practitioners would expose the facts about the CCP's persecution to more people.
Alex is a law student who visited the exhibition with his brother and another student. He told us, "I heard some of these facts about the persecution in 2005. I searched for additional information on the Internet and wrote about this in an essay to tell my classmates and teachers about it. I want to help stop this persecution, but I do not know what the best approach is. I hope you will use the strongest ways to help more people know the importance of stopping the persecution in China. People nowadays tend to focus on material things, but the Falun Gong issue is big - so many kind people are being persecuted and the freedom of belief is being violated. This is what people should care about and support the most."
An older Chinese man came to the exhibit after seeing the parade. He said that he supports this method of expressing "Truthfulness-Compassion-Tolerance" and said that he would return to learn Falun Gong in the future.