Practitioners in Toronto Share the Joy of Returning to Their True Selves (Photos)
May 16, 2008 | By Minghui reporter Ye Linghui reporting from Toronto
(Clearwisdom.net) On May 13, 2008, Falun Dafa practitioners held a celebration for World Falun Dafa Day at Nathan Phillips Square in front of Toronto City Hall. Many guests arrived to deliver their congratulations. Practitioners sang and danced to show their gratitude for Teacher's 16 years of effort in helping people take the path of returning to their true selves.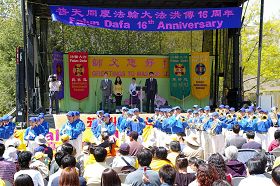 Practitioners in Toronto celebrated World Falun Dafa Day.
Practitioners teaching the Falun Dafa exercises at Nathan Phillips Square.
From a bystander to a practitioner
Du Qingzhang, originally from Hong Kong, started the practice in 2002. "It wasn't easy because I needed to change a lot of bad habits," said Du. "Every night I when I got home and saw Teacher's picture, it made me more confident in practicing cultivation. Now my wife practices Falun Dafa as well."
Du immigrated to Canada in 1990 after he witnessed the June 4th massacre. He also witnessed how the Chinese Communist Party (CCP) launched the persecution of Falun Gong in 1999. "I saw the staged Tiananmen self-immolation. I know well how the CCP uses propaganda and slander, and I started to sympathize with Falun Gong," said Du.
One day, he went on the official Falun Dafa website and understood what it really was--teaching people to improve their characters and return to their true selves. He downloaded the book Zhuan Falun. "I finished the book in three days and watched the exercise video afterward. The practice helped me understand many puzzles in the world and the meaning of life," he said.
Du lives in Barrie, a hundred kilometers from Toronto. He is in charge of supplies for an office. "One day an employee from a lawyer's office called me a second time to check on a copier. When I got there, nothing was wrong with the machine. However, I saw a Dafa brochure that had gotten my attention the last time I was there. I picked it up and found a practitioner's business card." Du found the practitioner and since then joined their activities.
Best practice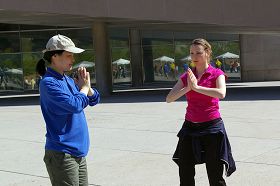 Dharia (right) learned to practice Falun Gong at Nathan Phillips Square
Dharia is a Russian Canadian who lives in Toronto. She started to practice Falun Gong six months ago, after doing Yoga for ten years.
Dharia said, "A friend of mine introduced Falun Dafa to me six months ago. It was my predestined relationship, and my Buddha nature started to show. I read Zhuan Falun every day now."
"I have benefited so much from the practice, a true practice. I change every day and every day is a new day for me. My body and mind are sublimating. I feel serene when I meditate and I am full of energy. It's a wonderful feeling."
"Being a Western practitioner, I want to invite other Western friends to the practice. Don't hesitate because Falun Dafa comes from the East. I searched for so many years and this is the best practice."
I want to give it a try
Bao Yusong was an IT software development engineer. He came to Canada from China in 2006 and started to practice Falun Dafa in August 2007. Bao helped to decorate the float for the day's parade. He said, "I had a good impression of Falun Dafa practitioners from the beginning. They were kind and just. After my wife started to practice Falun Gong, her relationship with my mother improved dramatically. I decided to give it a try."
In 2007, Bao attended a nine-day Falun Dafa seminar in Toronto and has practiced since then. "I became more responsible at work and had less desire for self-interests. I quickly found a job and have done well," said Bao. "I wake up at 3 a.m. and do the exercises every morning. Though I sleep a lot less than I used to, I feel much better now."
I feel blessed
Jenny Park is a Korean Falun Dafa practitioner. She wore her native costume to the parade. In 2001, a Korean practitioner introduced Dafa to Jenny. "I practiced Yoga when I was in Korea. I was looking to study Yoga when I came to Toronto, but I eventually chose Falun Gong. I did it because I admired that practitioner's character. The practice was free of charge and easy to learn," said Jenny.
"I wasn't well mentally and was easily antagonized. I complained about life and didn't know how to get along. After I started to practice Falun Gong, I understood the meaning of life and how to live and become a better person. I feel blessed."