Japan: Clarifying the Truth at the Flower Festival in Hiroshima (Photos)
May 10, 2008 | By Minghui reporter
(Clearwisdom.net) The 32nd Flower Festival in Hiroshima was held from May 3 to 5, 2008. The theme of the festival was "Creating Peace and Delivering Flowers to the World." The Falun Dafa Association in Japan received an invitation for a performance at the festival for the seventh time.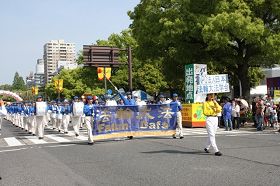 The Divine Land Marching Band
The festival started with a large scale parade. The Falun Gong practitioners' entry, which has been popular among the spectators every year, was again a crowd favorite. Following a large "Falun Dafa" banner, the Divine Land Marching Band, consisting of 100 practitioners, performed in the parade. After the band, there was a float and Celestial Maiden dancers. Practitioners dressed in yellow demonstrated the exercises at the end of the entry.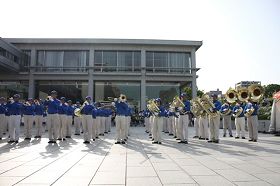 The Divine Land Marching Band
It was the first time that the Divine Land Marching Band had performed in public. Many citizens enjoyed the performance. The parade route was about one mile long, and the band played three songs. There were several bands in the parade, but none was as large as the Divine Land Marching Band.
Practitioners decorated the float with Chinese-style building models and banners that read "Truthfulness-Compassion-Forbearance" and "Falun Dafa." Practitioners dressed as Celestial Maidens demonstrated the exercises on the float. Many spectators took photos and videos of the float.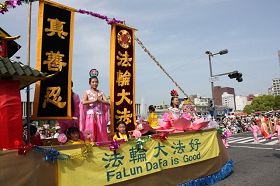 The float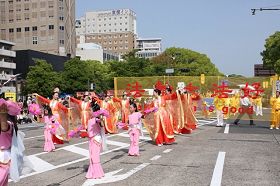 Celestial Maiden dancers
During the nine-year long persecution, practitioners in Japan have continued to clarify the truth to the public, and more and more Japanese have learned the truth about Falun Gong and the persecution. The organizers of the Flower Festival have send invitations to the Falun Dafa Association every year, despite interference and pressure from the Chinese Embassy. The host of the parade introduced Falun Dafa to the spectators and encouraged spectators to learn the exercises.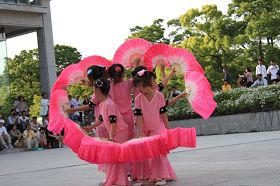 Young practitioners performed the fan dance
After the parade, practitioners attended the show in the afternoon. Young practitioners performed the fan dance, and demonstrated the exercises. Spectators warmly welcomed their performances.