Munich: Candles in front of the Chinese Consulate Commemorate April 25 Appeal (Photos)
May 01, 2008 | By a practitioner from Munich
(Clearwisdom.net) On the ninth anniversary of "April 25", when over ten thousand Falun Gong practitioners peacefully appealed in Beijing, Falun Gong practitioners from Bavaria held a candlelight night vigil in front of the Chinese Consulate in Munich, to commemorate this historical event, and to protest the ongoing brutal suppression of Falun Gong.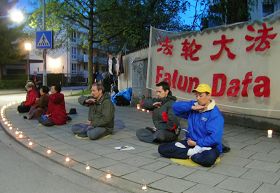 Candlelight vigil in front of the Munich Chinese consulate
A woman passing by donates a candle and then lights it herself
Falun Gong practitioners inside and outside China have experienced trials and hardships due to the ongoing persecution. A practitioner who attended the original April 25 appeal said, "Nine years have passed. During this time Falun Gong practitioners have suffered such brutal persecution as live organ harvesting. However, they still, just as always, persist in peacefully and rationally opposing the persecution. This is a first in history."
Banners exposing the brutal persecution and organ harvesting atrocities were held high at the candlelight vigil. People were shocked by the CCP's savagery. Many signed a petition to condemn the CCP's outrageous crimes. A German woman, after seeing the firm will of the Falun Gong practitioners holding the candlelight vigil, was deeply moved. She brought a large red candle, personally lit it and then placed it with the other candles. The flame of this large candle and the other candles together shone upon the night sky in front of the Embassy.