Mr. Zhang Deming Arrested Again, Faces Second Prison Sentence for Practicing Falun Gong
(Clearwisdom.net) On March 10, 2008, the local Police Department, National Security Team, and Public Security Team of Gaobeidian City, Hebei Province deployed eight police vehicles to surround Mr. Zhang Deming's home and arrest him. Later, the CCP police issued an "arrest warrant" and are planning to sentence Mr. Zhang to prison.
Mr. Zhang Deming, resident of Xiaoying Village in the Baigou area, is 58 years old. He started practicing Falun Gong in 1998. Since July 20, 1999, the local police have arrested Mr. Zhang multiple times.
In November 2000, Mr. Zhang was arrested by the Gaoqiao Police Station of the Baigou Police Department and detained in the Gaobeidian City Shooting Range, where he was tortured to get him to relinquish his belief in Falun Dafa. Later he was sentenced to four years in prison and sent to Jidong Prison.
On June 7, 2006, Mr. Zhang was arrested by police officers from the Gaoqiao Police Station, including Wang Shiyong. Mr. Zhang later managed to escape and had to flee home to avoid further harassment.
On March 10, 2008, the local police arrested Mr. Zhang again, ransacked his home, and confiscated photos of the founder of Falun Gong and a large number of Mr. Zhang's personal belongings, including a motorized tricycle, a bicycle, 600 yuan in cash, a computer, three ink jet printers, two laser printers, a compact disk writer, a USB hard drive, an MP3 player, a mobile phone, a wireless network card, a satellite TV receiver, a satellite TV antenna, and a TV set. They also extorted 3,600 yuan from Mr. Zhang's landlord.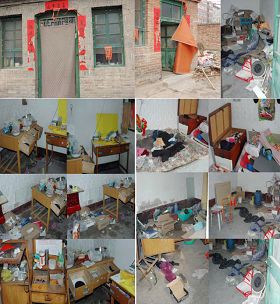 Mr. Zhang Deming's rental home in a mess after police ransacking