Additional Information about Mr. Chen Baofeng's Death as a Result of Torture (Photo)
(Clearwisdom.net) At about 10 o'clock on the morning of March 3, 2008, a witness observed a black car arriving at the Wujiawa Detention Center (also known as Chaoyang City First Detention Center). Several police officers dragged Mr. Chen Baofeng out of the back seat. He was extremely weak, and his head drooped. Mr. Chen was without shoes and moaned constantly. According to an insider, he died at noon that day.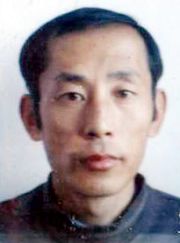 Photo of Chen Baofeng before his death
Mr. Chen Baofeng, 43, lived in Liujiazi Town, Chaoyang County, Liaoning Province. He was a taxi driver. On the evening of February 24, 2008, Falun Gong practitioner Li Yaxuan and her relatives and friends, including Ms. Li Yingxuan, chartered Mr. Chen's taxi. They were headed to the Masanjia Forced Labor Camp in Shenyang City to visit her husband Gao Yuling, whose life was in danger from severe torture. As soon as the taxi arrived in Shenyang City, four police vehicles intercepted them. The police were from the Chaoyang City Police Department's Qianjin Precinct and had followed the taxi. The police officers took all six Falun Gong practitioners from the taxi back to Chaoyang City after midnight. The persecutors held Ms. Jing Fei at the Chaoyang City First Detention Center, Ms. Chu Xiumei at the Chaoyang City Detention Center, Ms. Li Yaxuan, and Ms. Li Yingxuan, Ms. Yu Huijuan and Mr. Chen Baofeng at the Chaoyang City Second Detention Center (Shijiazi Detention Center).
Chaoyang City Police Department deputy head Zhang Minghua led the arrest. He urged his subordinates to interrogate the practitioners, trying to extort a confession. The six practitioners refused to cooperate and held a hunger strike to protest the persecution.
Police official Zhang Minghua ordered that no family members were allowed to visit. When one practitioner's family member came to visit, he heard a guard at Shijiazi Detention Center yell, "Don't worry about their hunger strike. Feed them by force!" "Especially Chen, he never cooperated." An insider also said, "Falun Gong [practitioners] really can withstand a beating."
Following Mr. Chen Baofeng's torture death, Zhang Minghua ordered all information about the incident to be blocked. No one was allowed to inform Mr. Chen's family. A meeting was held among all the detention center staff and those from the Domestic Security Division. The purpose was to come up with a consistent story, to cover up the murder, and thus get away with it. It wasn't until the afternoon of March 4 that Mr. Chen Baofeng's cousin, Chen Douxiang, was informed of Chen Baofeng's death. He then had to inform Chen Baofeng's brother.
The police department authorities forbid the family members from viewing Mr. Chen's body, until March 5. The family members were heartbroken at what they saw at the morgue. Mr. Chen Baofeng's body was casually left on the floor, with clothes still dirty from being beaten to the ground and dragged by the police. The family members put him on a stretcher and examined his body. They found large bruised areas on his back and sides. While moving Mr. Chen's body, blood dripped from his mouth.
The family knew that Mr. Chen had been very healthy before the arrest. The only explanation for his death within eight days of arrest was severe torture. The torture took place in the Chaoyang City Second Detention Center (Shijiazi). Following his placement into the Chaoyang City First Detention Center (Wujiawa) at 10 o'clock in the morning, he died at noon. Then the authorities put his body in the morgue and just left it on the floor.
Questioned by Chen Baofeng's family, Zhang Minghua admitted, "I was the one who arrested him." When questioned how Mr. Chen died, Zhang Minghua said, "It was an accident."
Chen Baofeng's cousin Chen Douxiang negotiated with the City Police Department for an autopsy. A coroner said that nothing abnormal was found in Chen Baofeng's heart or brain. But abnormalities were found in his lungs, and he had large areas of bruises on his body. Before the autopsy results were out, the cousin, Chen Douxiang, had consented to a speedy cremation on March 7, so the evidence was destroyed, as the murderers wanted.
Persecutor Zhang Minghua wanted to "settle things" after the cremation by paying the family 10,000 yuan from the City Police Department's coffers to cover the funeral cost. He further wanted officials from the Liujiazi Township government to grant the family 20,000 yuan in stipends. Rumor has it that this happened because Chen Baofeng's cousin, Chen Douxiang, was head of the Chaoyang City Police Department's Guanming Precinct. Otherwise, nothing would have been paid. As of March 10, 2008, only 10,000 yuan was paid.
After torturing Chen Baofeng to death, Zhang Minghua held meetings with people from the public security bureau, procuratorate and the people's courts, to spread lies in an attempt to cover up the murder. He also went to the detention center with Wang Jinglong, and fabricated more stories, intending to defame Falun Gong practitioners.
On the morning of March 12, 2008, practitioner Ms. Jing Fei's family members received a notice that the Chaoyang City Procuratorate had approved her arrest.
It was recently confirmed that Zhang Minghua had sent Ms. Li Yaxuan, who was going to visit her husband, to the Masanjia Forced Labor Camp.
By March 12, Falun Gong practitioners had been carrying on a hunger strike for 18 days. According to the police officers, Zhang Minghua had ordered that no family members were allowed to visit practitioners. When a family member demanded a practitioner's release at the Domestic Security Subdivision the personnel said, "She is doing fine." The family member questioned, "You said the same thing to Chen Baofeng's family members, so why did he die?" Wang Jinglong did not answer. The family member went to the Police Department Appeal's Office and asked, "What law prohibits my family member from receiving family visits?" The person said, "You will not get an answer from anyone about Falun Gong matters," and left.
On the afternoon of March 13, a witness saw police officers taking Ms. Li Yingxuan to the Chaoyang City Second Hospital for an injection. Li Yingxuan used to be very healthy, but she is now emaciated and barely recognizable. She was also still shackled. In response to people's indignant accusations, the police officers said, "She's fine."
The Chaoyang City Police Department authorities currently forbid family members to appeal their cases, and forbid lawyers from accepting Falun Gong cases. If they accept such cases their license to practice law will be revoked. Undoubtedly, Zhang Minghua was the main culprit in the murder. Shijiazi Detention Center head Liu Yaosheng is thought to be the actual murderer of Mr. Chen Baofeng. Liu was extremely hostile toward Falun Gong practitioners. He would withhold their release, even after all other departments had given their approval. Chaoyang City Domestic Security Subdivision head Wang Jinglong and guards from the Wujiawa Detention Center had also participated in the gross abuse and torture and eventual murder.
Responsible individuals:
Chaoyang City Police Department deputy head: Zhang Minghua, 86-421-2628248 (Office), 86-421-2636666 (Home), 86-13304219999 (Cell), 86-13904213399 (Cell)
Chaoyang City Domestic Security Subdivision:
Wang Jinglong, subdivision head: 86-421-2611250, 86-421-2616682, 86-13591860610 (Cell)
Li Xiuhua, political head: 86-421-2614801, 86-421-2623361, 86-13942191166 (Cell)
Chaoyang City Shijiahetao Detention Center: 86-421-2732375, 86-421-2732175
Liu Yaosheng, head: 86-13304216269 (Cell)
Tian Xiang, political head: 86-13842119600 (Cell)
Li Shengfang, deputy party secretary and 610 Office head: 86-421-2620610, 86-421-2912988, 86-13904911666 (Cell)
Li Jiancheng, deputy party secretary and Comprehensive Administrative Office head: 86-421-212161, 86-421-2821578, 86-13304911628 (Cell)
Related article: http://www.clearwisdom.net/emh/articles/2008/3/9/95175.html
March 18, 2008