Divine Performing Arts Touches People's Hearts (Photo)
April 10, 2008 | By Minghui reporters Yue Xin and He Ping in Stockholm, Sweden
(Clearwisdom.net) On April 3, 2008, the Divine Performing Arts (DPA) presented its fifth and last performance at Stockholm's Circus Theater. Many government officials, well-known artists, and businessmen were in the audience.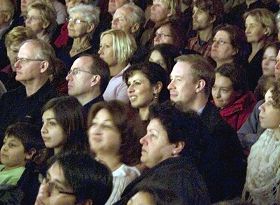 The audience absorbing the beauty of the Chinese Spectacular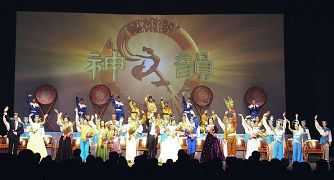 Honoring the performers with a standing ovation before the last curtain call in Sweden
Audience enthusiasm reached the highest point during "The Power of Awareness." The artists answered curtain calls twice at the end of the show.
Member of Parliament: Powerful and Meaningful
Birgitta Sellen, Swedish Centre Party politician and the second vice speaker of the Swedish Parliament, said the show was a success, "It's beautiful and moving. Every scene touched me differently. The scene about imprisoned Falun Gong practitioner ('The Risen Lotus Flower') was good, very powerful and meaningful."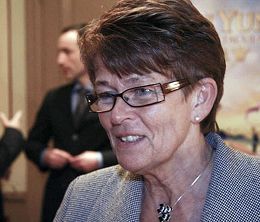 Ms. Birgitta Sellen
Ms. Sellen had to reschedule some of her work to be able to come to the show. She thought it was well worth it. When asked about the Chinese Consulate trying to stop the DPA from performing in Sweden, she said, "Beijing won't succeed in a democratic country like Sweden. We will, at every opportunity and meeting, tell the Chinese government the values of our country and remind it to improve its current human rights situation"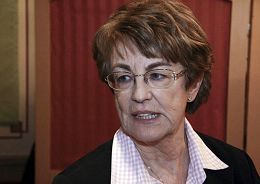 Ms. Britt Sofie Soder
Britt Sofie Soder, Secretary of the Parliament speakers' office, said the Chinese Spectacular was a beautiful and moving performance, "The dances, songs, music, clothes, and background projection were outstanding. I liked this show about traditional Chinese culture."
Musician: The Erhu Solo Is a Communication Between Souls
Musician Helen Iliste teaches music at the School of Arts in Stockholm. Iliste liked the dance programs. She also thought the Erhu solo was very moving, "Really, really good. The performance of the Erhu artist came from her heart and is a communication between souls."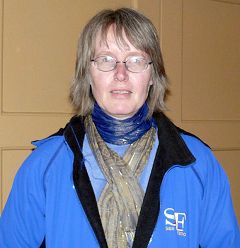 Ms. Helen Iliste
Ms. Iliste also commented on the background projection being very professional. "I like the way the DPA combines music and dance. The dances were very special when compared to ballet or African dance. Maybe because I practice Taichi, I somehow think I know how the dance movements were developed."
Professional Ballet Dancer: Outstanding and Perfect Dances
Professional ballet dancer Caroline Segerpalm said, "The coordination between the artists on the stage was outstanding and they created perfect dances."
She also said there were a lot of professional dance techniques in the show and that the artists basic training was very sound.
President of a Computer Design Company: I Brought My Whole Family
Mr. Hans Alvenkrona was a president of a computer design company, Alvit AB. He said, "We learned about the show from a newspaper and know the Chinese Consulate tried to stop the show from taking place. Hence my whole family came." Hans waved his hands and said, "The performance was brilliant, especially 'The Nymphs of the Sea.' They really imitated water waves very well."