Swedish Congresswoman: "It Was Really a Wonderful Experience" (Photo)
April 01, 2008 | By Minghui reporter Wang Qinghan
(Clearwisdom.net) Hillevi Larsson, a Swedish Social Democratic Congresswoman, was very impressed by the Divine Performing Arts' Chinese Spectacular at Cirkus Theatre, Stockholm on March 26.
"My favorites were the two dances about Falun Gong. They are very impressive. On one hand, they exposed the brutality of the persecution, on the other hand they showed hope, solid belief and justice. That is why they are so impressive, because you see both the positive and negative natures of humans in those dances. You also see the bright future in the darkness."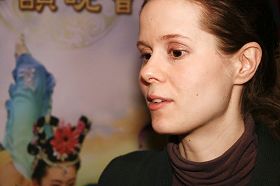 Hillevi Larsson, a Swedish Social Democratic Congresswoman
Ms. Larsson said that freedom of belief is a basic human right. She knows very well about the human rights situation in China. She had tears in her eye and said: "What touched me the most was that in those dances, although Falun Gong practitioners were under severe persecution, they were still solid in their belief. I believe this show will help people to learn more about the persecution. It is important that the international community becomes aware of it and takes action to make changes."
Ms. Larsson said the show was a great experience. She said: "The programs have profound cultural content. They combined modern techniques, traditional values, historical stories and myths into beautiful art. It was really a wonderful experience."