(Clearwisdom.net) The Divine Performing Arts Touring Company gave its fourth show in Paris on March 2, 2008. The show ended amid enthusiastic applause. Many spectators lingered in the hall after the show, talking about their impressions of the evening's performance.
(Clearwisdom.net) Mr. Lai Ching-te (William Lai) is a member of the Taiwan Legislative Yuan. He watched the Divine Performing Arts show on March 2, 2008, in Tainan City, and said with tears in his eyes, "The most moving program was 'The Power of Awareness.'" When the host and hostess asked the audience, "Are you going to stand idly by while these vicious beings bully kind people?" This question reverberated deep in his heart. He understood that the Divine Performing Arts Company did not come from so far away simply for the audience to say the that the show was "wonderful," but that there was also a profound inner meaning to the performance.
(Clearwisdom.net) At 10:00 p.m. on March 1, the third performance of the Divine Performing Arts Chinese Spectacular came to a successful close. The performers struck such an ebullient rapport with the audience that thunderous applause broke out in the theater from time to time throughout the show. In the audience, there were also quite a number of people from mainland China. Mr. Zhang Jian was one of them.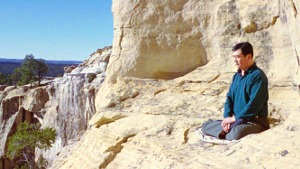 Master Li quietly watching the world from amidst the mountains after leaving New York following July 20th, 1999. (Published January 19, 2000)