Swedish MP: Rich, Creative and Multicultural Spectacle (Photo)
March 31, 2008 | By Minghui/Clearwisdom correspondent Zhou Rong
(Clearwisdom.net) Divine Performing Arts (DPA) has earned a great reputation for presenting the divinely-inspired Chinese culture through a superb, artistic performance. Many who attended the Chinese Spectacular shows in Sweden had high praise for the rich multicultural entertainment as well as the meaningful spiritual experience.
After watching the fourth show on March 26, 2008, Social Democratic Member of Parliament Hillevi Larsson called the show a truly rich, creative and multicultural spectacle. She greatly appreciated the multiculturalism, the wide span from ancient to modern times, and the profound philosophy and pure aesthetics.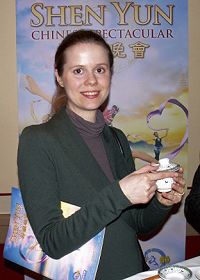 Social Democratic MP Hillevi Larsson called the show a truly rich, creative and multicultural spectacle
MP Larsson said the show was a feast of Chinese culture, music, dance, costumes and a movie-like background. She could see many philosophical meanings, and examples of upright human values, such as the battle between good and evil. She said, "When people ponder these issues in a spiritual dimension, they will feel harmony and peace."
MP Larsson was very impressed with the well-trained dancers and artists. Everyone looked very peaceful, and from their performance, she felt that they must lead a pure life.
Ann-Charlotte, an associate director of the Ministry of Enterprise, Energy and Communications, told the reporter after watching the show, "I think it is a very beautiful show! I have to say I was deeply fascinated. As a Westerner, it is somewhat difficult to understand Eastern culture. But I was very fascinated." She said the show exemplified courage from different points of view. She said she would like to visit China, and indicated that there are a lot of expectations for China. She hopes that international cooperation will be able to change China.