(Clearwisdom.net) For the past four shows the Divine Performing Arts Company had in Artpia Theater, Daequ City, Korea, the theater was full. Many shed tears during the performances. After watching the show on March 23, Jin Suluo, a professor in the dance department of Catholic University, said happily: "I was able to watch a world class show. I really made a great decision to come see this show."
(Clearwisdom.net) After watching the Divine Performing Arts' global tour show in Stockholm, Switzerland, movie producer and fashion photographer Mr. Valentino commented on the show from a professional perspective, "The entire show was very professional, seamless. I had a lot of artistic inspiration from this show. This is just amazing!"
(Clearwisdom.net) Mr. Duan Xinjun, the bassist of Pangu Band, a famous Chinese band, saw the second show of the Chinese Spectacular in Stockholm on March 24. After the show, he accepted an interview.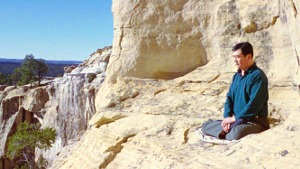 Master Li quietly watching the world from amidst the mountains after leaving New York following July 20th, 1999. (Published January 19, 2000)