Divine Performing Arts Continues to Amaze; UN Official Calls Spectacular "Perfection" (Photos)
March 25, 2008 | By Minghui correspondent Yang Siyuan from Vienna
(Clearwisdom.net) Divine Performing Art's second show in Austria drew to a close amidst thunderous applause at the Stadthalle Wien the evening of March 7, 2008. The performers mingled with local dignitaries in the VIP room, while crowds of people lingered in the newly built F Hall and shared their excitement.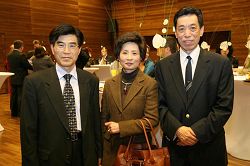 Byung Chul Kang (left), a South Korean consul in Austria, enjoys a friendly chat with tenor Guan Guimin (right)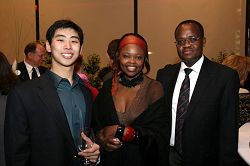 Julius Kiplagat Kandie (middle), Kenya's Ambassador to Austria, and Shi Lei (left), a Divine Performing Arts dancer, get to know each other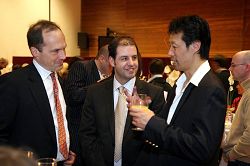 Alexander Hoffet (far left), Head of the East Europe and Central Asia Department of Foreign Affairs in Switzerland, shares a warm conversation with Wang Xuejun (right), a soloist and lead dancer

"I liked the performance very much," said United Nations official Germaine Lors. "It takes lots of hard work to prepare a show like this, but it was fantastic. It was gorgeous! Such amazing, creative work. I loved it!"
"Each program was a masterpiece and connected with the elements: fire, water...This was an exquisitely designed performance, mesmerizing and outstanding. It was perfection itself!"
Her friend, Dr. Liana Massens, said, "I really liked the graphics and animations on the backdrop because they conveyed such love and care. I also liked the female host."
"The colors were out of this world!" continued Dr. Massens, "I was born in Paris and my friend is French, so we loved it all that much more. It was such an elegant performance, very successful!"
Peter Wirt, who owns his own company, said that he enjoyed the Spectacular immensely, "Especially the harmony reflected by the dancers' precision. I think it must have taken them a long time to train. I also liked the programs about the persecution [of Falun Gong]. The whole show was very interesting."
He admitted that he had hoped for a more positive outcome in his favorite program, "The Power of Awareness", "I kind of wanted the three police officers to return to the stage and practice [Falun Gong] with the others, but unfortunately it didn't happen." ["The Power of Awareness" depicts two Falun Gong practitioners being beaten by police officers in a park, when the crowd steps up to protect the practitioners, who subsequently lead them to do the Falun Gong exercises].
Commenting on the music that accompanied the Spectacular, Mr. Wirt said, "European music is completely different. Traditional Chinese music is very calm and soothing, and the sounds are quite pleasing. Still, there were many things that were hard to understand, because many dance moves may have been passed down over a very long time in China, and the Chinese people have many different interpretations. But it's wonderful that we were able to hear and see it today."
He said he would strongly recommend the Spectacular to his friends, "People have to see this show. Such a high-caliber performance is rare. It's been a beautiful evening, and everyone should try to see a show like this--then they could learn more about China."
Alia, an attorney, learned about the Spectacular through a friend. She said, "We liked this show very much. The songs were all so lovely, especially the words 'Dafa is good' [from the song "Auspicious Words" by soprano Bai Xue]."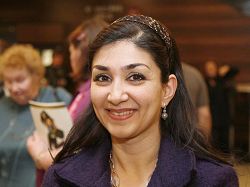 Alia enjoyed the show

She also thought that the dances were beautiful, especially 'Nymphs of the Sea,' "The hosts explained the plot before the dance, and then we saw it. It was quite interesting."
Johanna Spourzina is a physician. When asked for her opinion, she said with a big smile, "It was brilliant! Majestic and dazzling. Everything was splendid, and I truly enjoyed it."
"My favorites were the fan dance and 'Nymphs of the Sea,' because they were so graceful, and the harmony was impressive as well. I also liked the two-stringed instrument very much. We thought it was very pleasant to the ear."
She said she knew nothing about classical Chinese culture before the show, but had learned many things from the Spectacular. She also thought the hosts' introductions before each program were helpful in understanding the pieces.
The reporter met Ms. Li, originally from Mainland China, at the theater entrance. Having lived abroad for 15 years, Ms. Li said she has not seen any Chinese cultural programs for a long time. Although the Spectacular went by in what felt like an instant, it gave her a warm feeling of home, "It was great! My favorite was the Mongolian dance--fantastic."
Ms. Liu and Ms. Huang from Vienna learned about the Spectacular through friends, and they both enjoyed the performance. "It's lovely! Just outstanding. The costumes and banners were bright and colorful, easy on the eyes."