Retired High School Principal: A True and Valuable High-Level Enjoyment (Photo)
March 23, 2008 | By Shen Rong from Taipei, Taiwan
(Clearwisdom.net) Before retirement, Principal Mr. Shu Chianfu of National Taoyuan High School devoted himself to establishing a dance department. And he is still actively involved in promoting art and culture after retirement. On the evening of March 18, 2008, Mr. Shu saw Divine Performing Art's last show of the Chinese Spectacular in Taipei. He remarked that all the dancers were highly skilled and that it was a true and valuable high-level enjoyment.
During the intermission, Mr. Shu shared his impressions of the show with a reporter. Pointing to his friend sitting beside him, he said, "He (Mr. Huang Yingchiun) told me there was a good arts company coming to Taiwan. I was very willing to come see and enjoy the show."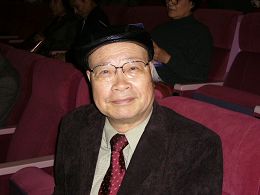 Retired principal of Taoyuan High School Mr. Shu Chianfu: "No one had done a better job than Divine Performing Arts to promote the Chinese culture."
A happiness from inside
Mr. Shu said, "After seeing the Spectacular, [I can see that] it truly deserves its fame. The background, lighting, music, dances, and stories were all united into one. The background is even three-dimensional to make the audience feel they are part of it. I really am enjoying this high-level performance. I feel a happiness from inside."
He mentioned the dance "The Risen Lotus Flower." "This dance describes Falun Gong. They were cruelly persecuted but unyielding and firm on the inside. In the end, the gods saved her and raised her up. This is to educate us to be brave in the face of [despotic] power. A person's life is short. Everyone will get to the end eventually. Look at the end: if one can fight for truth, for the ideal, I believe one will be saved by God."
No one has done a better job than Divine Performing Arts to promote Chinese culture
Mr. Shu praised DPA's historical content. "Chinese culture surpasses country borders, it is neither green nor blue (Note: referring to the competing political parties in Taiwan. The Republicans are blue and the Pro-Democrats are green). Especially when a society's morals are deteriorating, something like this is needed to save and elevate the moral standard.
"We are happy because we have a chance to see the show in person. I believe that Divine Performing Arts should go to every city that has Chinese people. Even facing the dictators and lies, I believe time will show people what is right and what is wrong. Chinese culture has such a long history; it is only a short time that the dark clouds have covered up the sun. But we will see the sunshine eventually."