Belgian Theatergoers Marvel at Chinese Culture (Photo)
March 02, 2008 | By Minghui/Clearwisdom correspondent Yang Siyuan
(Clearwisdom.net) Three wonderful shows by Divine Performing Arts in Antwerp on February 26 and 27, 2008, warmed the hearts of the usually conservative Belgians. A line of people could be seen at the ticket window right before the show. The audience members gave long, standing ovations at the end of each show. Some waved at the artists, while speaking glowingly about their impressions afterward.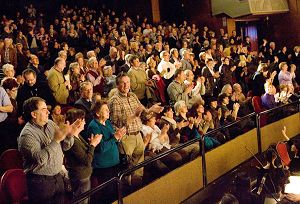 The audiences gave standing ovations at the end of each show.
Mr. Roger Motier, a resident of Gent, fifty kilometers from Antwerp, told the reporter that he decided to come to the show after hearing about it on TV and seeing it in the newspaper. He said with emotion, "It was like a dream! So beautiful! Incredible! I am at a loss for words!"
He said he would tell his Chinese friends about the show, "I am very interested in Chinese culture. I have a few friends in China, and we get in touch pretty often. The show is wonderful! I would like to see it again. I will tell them about it tomorrow morning." He said the drum dance was very special. He was also very impressed with "The Risen Lotus Flower."
Romie van Zandvoort and his whole family are keenly interested in cultures around the world. He thought the Divine Performing Arts show reflected a history of thousands of years and that it was very creative. "I learned from reading that people danced like this in the past. It is great that young people are now finding out about the culture of thousands of years ago. I suggest they continue. They did great! I will recommend it to my friends."
Hantje Vermans and Walter van Honing said, "It is a beautiful show! The costumes, colors, and music are gorgeous! I was amazed by the music. It is drastically different from the Chinese music we have heard in the past. The change has a European flavor. I can hear a variety of styles in it." He was also amazed at the coordination of the dancers. "The coordination was perfect! It was incredible! All you could see when you looked at all the drummers was the exact same movement at the same time. I think they must have rehearsed for a long time."
Catarina is a doctor. She thought all the individual performances were great. It was hard for her to say which was her favorite. "The dance about Falun Gong was great! They are so brave, so courageous! My brother knows Gongfu. He told me about Falun Gong before. I am a doctor, and I could feel the strong energy of Falun Gong. I think it is brave for the show to present this theme! It is beautiful! Great!"