Divine Performing Arts Successfully Presents Five Performances of the Chinese Spectacular in Kaohsiung, Taiwan (Photos)
March 17, 2008 | By a Minghui/Clearwisdom reporter from Kaohsiung, Taiwan
(Clearwisdom.net) On March 4-8, 2008, Divine Performing Arts presented the Chinese Spectacular in Kaohsiung Taiwan. Over the five-day tour, people expressed their deep love for these shows. Each performance drew a full house. Every day, more people stopped at the box office to buy tickets for the Spectacular. People of all ages, old and young, and entire families came to see the show. The wonderful, high-class performance moved the audience. A Minghui/Clearwisdom reporter from Kaohsiung interviewed several audience members: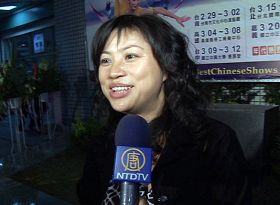 Ms. He Zhihua said, "The sound of the drums was full of power and grandeur."
Ms. He Zhihua, who immigrated from Fujian Province in mainland China and settled in Kaohsiung, Taiwan, said, "I was trained in dance and feel that the dance skills in this show were very good. The stage backdrop is also very beautiful. The most touching thing is that these dance performances are al part of ancient Chinese tradition. Some examples are 'The Loyalty of Yue Fei' who served the country with utmost loyalty and 'Victory Drums,' the last performance, featuring traditional Chinese drums. As I watched, I felt excited. My son was happy seeing these performances, too. He's so young and could still understand it. Wow! I am so impressed."

A mother-in-law and a daughter-in-law from Chaozhou said, "We enjoyed every one of the performances."
A woman and her daughter-in-law from Chaozhou told the reporter that every scene was very beautiful. "We are surprised to see such beautiful performances. I shed tears when watching the first dance, 'Descent of the Celestial Kings.' Every scene was very beautiful and we enjoyed all of them from the first one to the last one."
Ms. Chen Shufeng from China Life said, "It's excellent. I am surprised to see such a good performance. I was moved by all the performances. After watching the show, I felt that everyone changed. They were different from before, easy to deal with and nicer. I think those who watched the show this year should see it again next year. Those who have not seen the show yet this year should see it. It would be a pity if you miss this chance."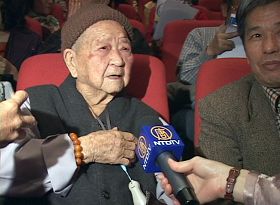 A Buddhist monk from Fahua Temple in Sanwan Reservior, Desheng, said, "I wanted to see the Divine Performing Arts Show while I am still alive."
A Desheng Buddhist monk, accompanied by friends and family, traveled from Miaoli to Kaohsiung to see the second Divine Performing Arts show. He is about 97 years old. He told the reporter before entering the auditorium, "I have heard about this high-level performance for a long time. They said this show will be good to purify one's heart, and help one's cultivation. I have cultivated for about 50 years. I wanted to see the show while I am still alive." The monk said his grandson, who lives in Wenjianhui, bought four tickets in order to fulfill his wish.
Ms. Zhang Wanyong told the reporter, "I felt the show was truly wonderful. The dance about the two young men who came across a divine being ("The Fruits of Goodness") made a deep impression on me. I was very moved by this dance. The entire show was excellent. The audience responded with enthusiastic applause from time to time during each performance. I think people actually have kind hearts. Everyone has a kind heart, it's only that people's kind hearts have yet to come forth ."
Ms. Zhang Jinghua was moved by the inner meaning of the program. She said the dance "Descent of the Celestial Kings" really struck a chord in people's hearts and souls. There was a feeling that was hard to describe, hard to express in any language. She said, "I could not express it in detail, although it truly touched me."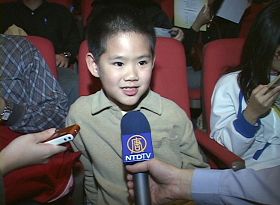 Gu Heng, a young child, said, "I liked the dance, 'Descent of the Celestial Kings.'"
A young boy named Gu Heng said he liked the sculptures of the divine beings in the performance. He thought they looked very good. He said he liked that story and also the divine beings, and especially the Bodhisattvas on the stage.
Mr. Zeng Ruiming said, "The Divine Performing Arts shows are really exquisite. I liked this show a lot. I am shedding tears right now. They promote traditional Chinese culture even though they are living abroad. I feel that it's really difficult to do that, especially in the United States. They still promote such historical Chinese culture. It's really beautiful. I liked it a lot."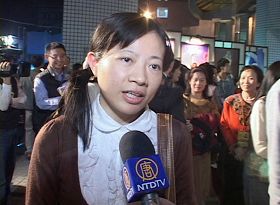 Lin Peiren said, "This kind of performance can purify people's hearts."
Lin Peiren told the reporter, "The story about the 'Lady of the Moon' is our traditional legend. Therefore when we see it on the stage, it conveys to us higher realms and feelings. The 'Victory Drums' and 'Drummers of the Tang Court' were both very stirring. Moreover, using traditional Chinese dance to express ancient Chinese culture in such an unconventional performance can have an effect of purifying people's hearts."