Czech Republic: Local Performing Artists Greatly Impressed by the Divine Performing Arts, Acclaiming the Show as the Peak of Perfection (Photos)
March 14, 2008 | By Minghui reporter Kerry Huang
(Clearwisdom.net) Divine Performing Arts Chinese Spectacular presented two more shows at the Prague Congress Center on March 11, 2008. Many artists were among the audience. Ballet expert Ms. Kostulanova commented the Divine Performing Arts' performers as the top of the top dancers.

Prague audience applauds the wonderful performance of Divine Performing Arts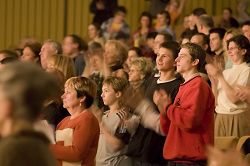 At the conclusion of the show, the audience gives a long standing ovation
Ballet expert Ms. Kostulanova praised the Chinese Spectacular highly. She said, "It was absolutely perfect and excellent. I have never seen such a performance before. All the dancers were the top of the top dancers. I'm very enthusiastic about ballet. As a young girl, I was a ballet dancer, too. So I'm in the position to comment on the artistic standard of the Divine Performing Arts."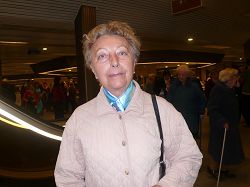 Ballet expert Ms. Kostulanova praises the Divine Performing Arts to be perfect and flawless
Ms. Kostulanova brought 85 students from Czech Royal Academy of Dance to attend the show. She said they were glad to come to learn about the Chinese culture.
She continued, "I really liked the singers. They were excellent,... They had such big strong voices."
"The costumes were so beautiful and colorful," she added. "They had very nice composition to them. Because I create pictures myself, it gave me an example how to put such nice colors together. The costumes were not only colorful, but also very elegant, with a good presentation."
Professional dancer Jana Kramarova attended the show and said that the show inspired her, and she was particularly amazed by the costumes. She said, "Even though they were simple they very nicely distinguished the female figure." She added, "The stories were understandable....They looked harmonious with nice expression in their faces."
Musician Lubomir Kanera told the reporter that she attended the show to learn about the Chinese music. She said, "Authentic Chinese music is inspirational, very beautiful. I experienced the message, a compassionate feeling. The performance was beautiful. I'm very glad that I came. She [the show] conveyed a rich message."
Painter Radka Hofmanova said she was particularly interested in the costumes and ingenuity of the show. She said that the show was gorgeous, and she would recommend it to everyone.
She continued, "Everybody should come and see and experience the Chinese culture. Should come to see the show. I was impressed with the Chinese culture's purity and and positive and uplifting spirit."