Vienna Therapist Thrilled by Spectacular (Photo)
(Clearwisdom.net) The Divine Performing Arts Touring Company recently presented two shows of the Chinese Spectacular in Vienna. Both shows were a great success, receiving overwhelming commentary and reviews from the audience.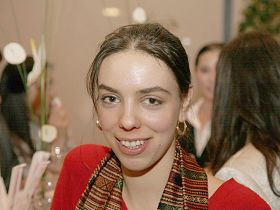 Therapist Larissa Bachmann was thrilled by the show
Larissa Bachmann, a natural therapist, said that the show was a big surprise to her. "I loved this show, as the dances are so elegant and graceful. All the dancers are superb and the MCs are great. Though we don't know much Chinese language, we all enjoyed the performance. The costumes are dazzling and each performance was very fascinating," she said emotionally.
When asked which piece was her favorite, Ms. Bachmann said, "The soprano impressed me the most as her voice was so high and as clear as crystal. In addition, the Chinese violin [Erhu] was superb."
Ms. Bachmann said that the two dances about the persecution of Falun Gong were very encouraging and educational. "The Risen Lotus Flower" portrayed three dedicated Falun Gong practitioners who were rewarded to see a magnificent scene of Buddhas and heavenly beings. "That moment was so beautiful," said the therapist, "I also like the little girl in the other dance ["The Power of Awareness"]. She was so cute. When people start to face the situation, they will find that the persecution is really tragic and should not have happened. I think that we should support them [Falun Gong practitioners]."
Ms. Bachmann summed up her feelings about the show: "Everyone should come to see this show, right now." Then she smiled, "However, since this is the last show in Vienna, they now need to travel with the Divine Performing Arts."