(Clearwisdom.net) Well-known South Korean bass vocalist Xin Guikun attended the Chinese Spectacular on February 24, 2008. While walking out of the Grand Peace Palace of Kyung Hee University, he said excitedly, "The show made me feel I had left the secular world for a moment. I don't know if I will have another opportunity to see such an outstanding performance in this lifetime."
(Clearwisdom.net)
Over the last couple of months, shows displaying Chinese traditional culture received great attention in New York and other places in the USA. Regardless of race or nationality, showgoers expressed that this was a gorgeous, tranquil, bright performance. The compassion and kindness that the programs conveyed touched people's hearts.
(Clearwisdom.net)
The Divine Performing Arts played their final performance of the
Chinese Spectacular
in Antwerp and continued on to Paris, France. The three Antwerp shows on February 26-27 made their mark in Belgium. The audience and performers interacted warmly, especially at the final performance. After the show, the curtains lowered and the audience was reluctant to leave. They continued applauding in appreciation of the Divine Performing Arts. The curtain raised again and the audience gave a standing ovation.
~ Shen Yun Performing Arts ~
~ Voices of Support Worldwide ~
~ Other Community Events ~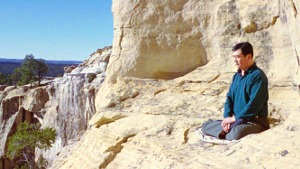 Master Li quietly watching the world from amidst the mountains after leaving New York following July 20th, 1999. (Published January 19, 2000)