Artists in London Cheer for the Divine Performing Arts (Photos)
(Clearwisdom.net) In the afternoon on February 24, 2008, the Divine Performing Arts Touring Company presented its fourth Chinese Spectacular in London. The success of the previous three shows attracted more artists to the fourth show. They had praise for the cultural artistry and spiritual content of the performance.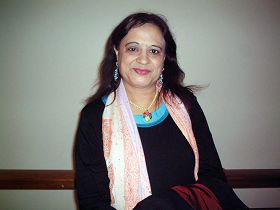 A specialist in traditional Indian dance, this theatergoer appreciated the show's positive message.
A regular at the Royal Festival Hall in London, one woman interviewed specializes in traditional Indian dance and song. She attended on the 23rd and said, "The performance is really good, very traditional, and full of cultural messages. At the same time, it's simple and colorful. The music flows well and has a calming effect. The show stands out from others in London." She said that she was a Buddhist and hence paid special attention to the artists' graceful hand movements because they reminded her of the hand gestures of the Buddha. She appreciated the show's message of "reward the good and punish the evil" and expressed her conviction that culture and tradition can make a society more kind. She hopes to see the Chinese Spectacular again next year.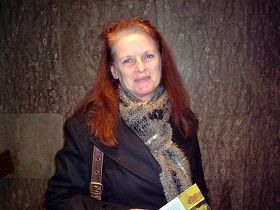 Elaine, a professional dancer, was drawn to the differences between Chinese classical dance and classical ballet.
Elaine used to be a professional dancer but is now a teacher in the film industry. She and her husband attended the last show in London. Elaine was glad she came, saying, "The entire performance was beautiful and very different from the Beijing Opera I saw recently. That was quite modern. The dances I saw today were extremely attractive. The movements were smooth and graceful."
Elaine thought for a bit and continued, "There is a soul to every dance. I am curious about the differences between Chinese classical dance and classical ballet explained by the hosts. The dances today showed how completely Chinese classical dance is a manifestation of the dancer's heart and spiritual level. Compared to ballet, the dances today made me feel warmer and more friendly. I was trained in ballet and I know it takes a lot of effort for dancers to be able to do that."
Elaine was sorry that the beautiful dances she saw in the show, including the Mongolian dance and the Tibetan dance, don't exist in China anymore. She was glad the Divine Performing Arts is restoring these beautiful traditional dances.
Elaine didn't know much about Chinese culture or the persecution of Falun Gong and the tremendous pressure on practitioners in China. She expressed her interest in gaining a deeper understanding of Falun Gong.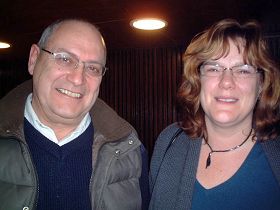 This couple teach design in an art school and thought the show was great.
A couple that teach design in an art school especially appreciated the dances in the finale of the Chinese Spectacular They loved the beautiful colors, the spirituality, and the cultural messages. They were interested in the giant stage backdrop, saying that they thought it was very creative and helpful in conveying the programs' messages