Spectacular Plays to Full House in London (Photos)
(Clearwisdom.net) On the afternoon of February 23, the Divine Performing Arts presented the second show of the Chinese Spectacular to a packed Royal Festival Hall in London.
Dara, a financial manager with Tata Consultancy Services, watched the show with his wife. He said that the show was truly a splendor. His company, a division of the largest Indian private corporation, the Tata Group, is one of the largest information technology and consulting service companies in the world. Dara said that he enjoyed the show and that the dancing was great. "The costumes, stage sets, colors, and methods of presentation, everything was great and splendorous. If the Diving Performing Arts comes back next year, we will come to see it again."

Dara, a manager of the Tata Group, said that the show was a true splendor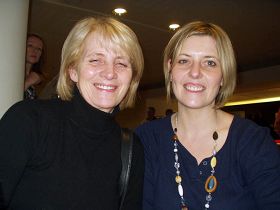 Joan Turnbull and her daughter both loved the show
Joan Turnbull is a social worker who recently came from Ireland to visit her daughter Jenny Baird. Ms. Turnbull said that the show was a wonder, and the music and dances were very elegant. Ms. Baird is a project manger for a construction materials company. She had learned about the Divine Performing Arts show from several friends. Ms. Baird said, "The show is very cultural and enlightening, I enjoyed this show which reproduced ancient culture. In one word: very well done! It is very nice to know about this culture. Thank you!"