Enthusiastic Tokyo Audience Members Respond Warmly to the Divine Performing Arts Chinese Spectacular (Photo)
(Clearwisdom.net)
The opening of the Divine Performing Arts Chinese Spectacular at the Kousei Nenkin Kaikan Grand Hall in Tokyo, Japan, wowed the Japanese audience. Its run continued with a second show on February 13, 2008, and earned enthusiastic praise from theatergoers for its authentic portrayal of traditions and values drawn from China's 5,000-year culture.
Sun Youting, a first generation fashion model from China, was astonished by the performance. Ms. Sun, who immigrated to Japan 20 years ago, now hosts a cooking program on TV. She attended the show with some of her Japanese friends. She said that the entire show was very good but singled out the piece "The Loyalty of Yue Fei." She noted that today it is very hard to see Chinese traditional culture like this. "Now when we mention China, people may think of the reports of poisonous dumplings, and real, traditional Chinese culture has been forgotten by the world. I have lived in Japan for 20 years, but I am still Chinese. Watching this show, I am proud of being Chinese."
She noted that the costumes were very impressive, and the dancers are well trained, especially the very talented principal dancer. Ms. Sun was surprised when she learned that all of the performers are Chinese living outside of China.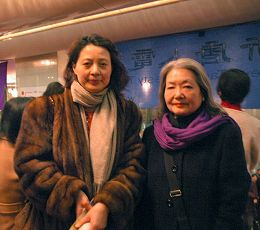 Ms. Sun Youting (left) and her Japanese friendChinese human rights lawyer Yang Shaogang and his wife had been in Japan for only two weeks when he learned about the performance. Mr. Yang said that he knew about Divine Performing Arts from the Internet, and he knew that the Chinese embassy had tried to obstruct the show in New York City, which motivated him to see the show in person. "I wanted to judge for myself who is right and who is wrong."
During the intermission, Mr. Yang said, "Presenting Chinese legends and spreading Chinese culture on stage is a good thing. The show is very well performed, and the performers are professional and well trained." Regarding his favorite piece, Mr. Yang said he would like to recommend "The Loyalty of Yue Fei," which perfectly presented the traditional Chinese character who treasured loyalty and patriotism. In addition, he thought that "Lady of the Moon" and "Water Sleeves" were also impressive. He noted that the show would definitely be welcomed by the Chinese people were it ever to come to China.
Mr. Yang said that the show demonstrated the purity and harmony between heaven and earth as well as the compassionate side of human beings, which was unfortunately attacked by the CCP regime. "The CCP advocates atheism, but I believe in purity and harmony between heaven and earth, that good will be rewarded while evil will be punished."
Mr. Yang was a senior attorney at the Shaogang Law Office of Shanghai and consultant for the Shanghai Government, director of the HIV/AIDS Law Research center of Shanghai Political & Legal College, and consultant for the HIV/AIDS Policy Research Center of the Shanghai Academy of Social Sciences. He provided legal services for HIV patients. In 2007, he was renowned as a leading advocate for HIV/AIDS prevention in China.