"I Am Looking Forward to Next Year's Show" (Photos)
February 02, 2008 | By Shu Zhen
(Clearwisdom.net) On the evening of January 30, 2008, the Divine Performing Arts of New York presented its first Chinese New Year Splendor at Radio City Music Hall in New York. It was a superb show, and some audience members are already anticipating next year's performance.
The first show of the Chinese New Year Splendor in New York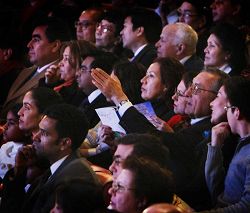 Rapt spectators
"It is an absolutely superb show," said Brian. He thought that the dances were special, very different from ballet. He noted that the music and dances stressed Chinese traditional culture.
"I am very pleased." Brian's wife, Ms. Chen said. As a person of Chinese descent born outside of China, Ms. Chen said, "Seeing so many people of other ethnicities come to enjoy Chinese culture makes me feel very happy and proud."
Mary, her husband, and friends came to see the show. During the intermission, Mary said that she thought the show's message was "peace." "The world needs peace, like the show presented." Mary thought the performance was quite different from what she had expected, "Fantastic! The music, costumes, and backdrops are all beautiful. The show has inspired me to visit China. I am looking forward to next year's show. I am very pleased to be here tonight."
Brian said that the performance about Falun Gong impressed him most, "It was a little surprising. We visited China but we didn't know anything about this."