Minister: The Show Has Very Rich Spirituality (Photo)
February 17, 2008 | By Clearwisdom reporter Kelly Huang from New York
(Clearwisdom.net) After watching the Chinese New Year Splendor in New York on February 8, 2008 Ms. Kit Kaplan said, "The show is great. It is different from the other Broadway shows. It not only contains dancing and singing, but even more importantly, the show has a very strong spirituality in it. It is very touching."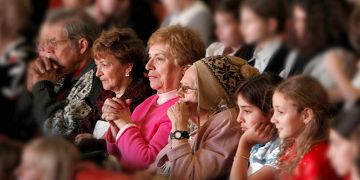 New York audience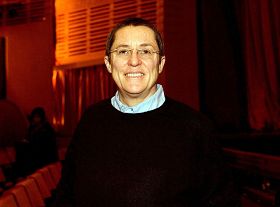 Kit Kaplan: "The show is great"
Ms. Kaplan, who used to be a minister, is a person who cares for people and helps them find their spiritual path, which she thinks is very important.
"The show is great. I really loved it." She said, "It was a lot of fun. I liked the the costumes and the make-up. The dancing was really great!" However, the thing that she liked the most were the meaningful stories.
She particularly liked "The Power of Awareness." She said, "That program was very touching. It's pretty big for us in America to think that somebody is not be able to practice Falun Gong in China. It's almost beyond our comprehension. I cried through that one. That was very powerful for me. So, I really like the spiritual aspects of the show--the culture, the history, the dance. I liked that a lot."
Sharing her overall impression of the show, she said, "I was very moved. I cried during some of the performances. I liked the drums a lot. That was very exciting, but I was very moved by the stories more than the dancing. I also liked the program about the moon and the nine suns ("Lady of the Moon") I liked it a lot, and again the 'The Power of Awareness' was very moving."
As a result of the show, she learned a lot about traditional Chinese culture. She said, "I learned about Chinese culture throughout the show. There was a very strong spirituality in it. Spirituality is the foundation of traditional Chinese culture. It is very compelling. I could not imagine a show on Broadway that has any kind of spiritual foundation; that's hard to imagine in our culture. So, to have a whole show have spiritual undertones is so different. It's a different culture."