Family from Brazil: "This Performance Touched Our Hearts" (Photo)
February 16, 2008 | By Minghui/Clearwisdom correspondent Shu Zhen
(Clearwisdom.net) The New Tang Dynasty Television's (NTDTV) fifteen Chinese New Year Splendor performances in New York City successfully concluded at Radio City Music Hall on February 9. As the audience members were leaving the theater with their friends and families, a joyful and peaceful atmosphere lingered.
Dr. Waldo, and his wife and son, came to New York City from Brazil for one week of vacation. On Saturday afternoon, when they learned that only one Chinese New Year Splendor show remained, they hurried to the Radio City Music Hall to catch the show.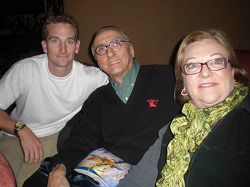 Dr. Waldo, his wife Hanni, and his son Gabriel

Hanni said with excitement, "The performance was excellent. We really enjoyed it. The dances, as well as the music are something that we cannot see often. This was the first time I got to see a Chinese performance."
"This performance touched our hearts." Dr. Waldo emphasized, "Behind each program there was a very meaningful story. It was really very good."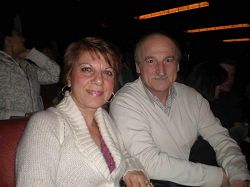 Sue and her husband John

Sue and John came to watch the show under the recommendation of one of their colleagues. "The performance was wonderful. The music and costumes were extremely beautiful. When we saw the book at a Costco store showing the beautiful costumes, we wanted to come to see this performance." John said, "Later, one of my Chinese colleagues said to me, 'Oh! You should go! It is excellent!' So here we are!"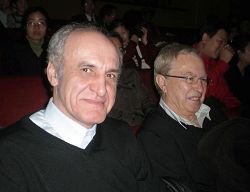 George (left), a businessman who sells medical equipment, and his friend Eddy

George is a businessman who sells X-ray medical equipment. He came to see the show with his friend Eddy. He said, "I liked every part of the performance." Eddy also felt the same and could not decide which program he liked most. "I liked the whole thing, too."