New York: "I Have to Tell My Friends to Take Their Children to See This Splendid Show"
February 15, 2008 | By Minghui reporter Zhou Rong in New York
(Clearwisdom.net) Ms. Zhu, a Chinese immigrant living in Staten Island, has been in the Unites States for almost eight years. She pays close attention to her child's Chinese education. When Zhu received information about the Chinese New Year Splendor several days ago, she took her seven-year-old daughter to see the afternoon show on February 2, 2008.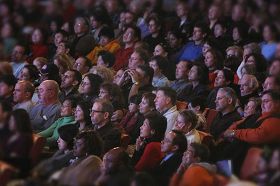 Audience watches the show with rapt attention at Radio City Music Hall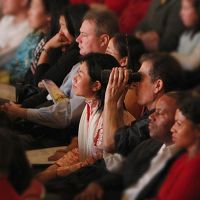 Attentive audience at Radio City Music Hall
Ms. Zhu said that each performance was so positive and upright. She was particularly impressed by the singers. She believed that the show highlights the most precious part of Chinese culture, and that it is a valuable opportunity for her daughter to see true Chinese culture. She asked the receptionist whether there would be another show next year and how to get information about it.
When Mrs. Zhu heard that there were more shows this year , she said, "I have to tell my friends to take their children to see this splendid show."