(Clearwisdom.net) The Divine Performing Arts on Tour's Chinese Spectacular debuted in Duisburg, Germany, on February 13, 2008. The Spectacular is then scheduled to tour 15 cities and present more than 40 shows in Europe (http://www.bestchineseshows.com/tours/europe).
(Clearwisdom.net)
The Divine Performing Arts New York Company presented its debut performance in the capital of Japan, the first stop on its Asian tour, at the Kousei Nenkin Kaikan Big Hall in Tokyo on February 12, 2008. Five thousand years of authentic Chinese culture, expressing pure kindness and pure beauty, once again captivated the Japanese audience.
(Clearwisdom.net)
The Chinese New Year Splendor performed by the Divine Performing Arts drew a standing ovation and rave reviews from both Eastern and Western members of the audience.
The unfolding of the essence of Chinese traditional culture was very well received, especially by Chinese people. The profound content of the show seemed to touch their souls and awaken their consciences. Especially, the song "I Am Singing for You" by Jiang Min appeared to deeply touch many people's hearts.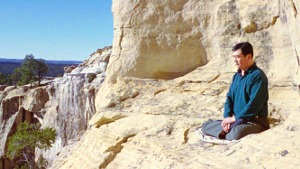 Master Li quietly watching the world from amidst the mountains after leaving New York following July 20th, 1999. (Published January 19, 2000)