"This Show Is Especially Good for the Young Generation of Chinese" (Photos)
February 11, 2008 | By Zhou Rong and Li Huirong in New York
(Clearwisdom.net) The five-thousand-year old Chinese culture has greatly influenced countries surrounding China, so it is not surprising that the NTDTV Chinese New Year Splendor that was recently performed at Radio City Music Hall attracted many Asians from China's neighbors.
A Brand New Experience
Fifi, an Indonesia-born Chinese who studies in the US, and her husband Andy attended the 7th Splendor show in New York on February 4, 2008.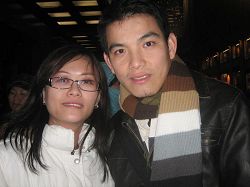 Indonesian born Fifi and her husband Andy.
Fifi said she's never seen such a performance before and it is a brand new experience for her. She and her husband Andy enjoyed the show, especially the singing.
Andy liked the stories depicted by the dances although he had no previous knowledge of the stories or their backgrounds. However, he was able to learn a lot as he followed each program.
The couple felt the programs were magnificent and worth recommending to their families and friends. They brought several program brochures home.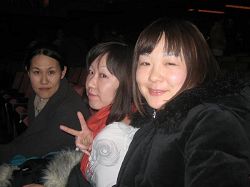 Three Japanese ladies working in a design company liked the chopstick dance best. They felt there are many similarities between Chinese and Japanese cultures. Japan inherited much of its culture from China.
Experiencing the Harmony of Heaven and Mankind
Mr. Hu, a doctor of Chinese medicine, and his wife have lived in the US for ten years. They learned about the show from NTDTV and newspapers. They were very excited after seeing the show. Mr. Hu said, "I liked every program. The high-tech backdrop was very professional, and the singing was perfect." "Through the show, people can learn the true traditional Chinese culture and can experience the harmony of heaven and mankind. The young Chinese generation in the US has not been in contact with traditional Chinese culture and doesn't believe in Gods and Buddhas. This show is especially good for the young generation of Chinese."