Young Chinese Man: This Dance Made Me See Hope (Photo)
February 11, 2008 | By Minghui/Clearwisdom reporters Heyu and Chen Huirong
(Clearwisdom.net) Mr. Chen Zhengrong, a Chinese immigrant from Fujian, works at a restaurant in Louisiana. Although he doesn't make very much money, he flew to New York to watch the Chinese New Year Splendor. It was his first time watching this show. He was deeply moved by the beauty and justice demonstrated by the show.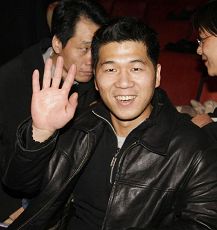 Mr. Chen Zhengrong: "I am very moved."
Mr. Chen was stunned by the show. He said: "I cannot exactly describe my feelings. I respect very much the Falun Gong practitioners in the dance 'The Risen Lotus Flower,' who have the solid belief even in front of the evil policemen. I think more and more people will support their spirit. They will win at last."
Mr. Chen said, "The dance 'The Power of Awareness' reminded me of the old saying--'evil can never win righteousness.' This dance made me see hope."
Mr. Chen said, "Although the flight was expensive, it was worth it. I will definitely recommend this show to my friends, and I will come to the show next year for sure."