Divine Performing Arts Show Touches Cincinnati Audience (Photos)
December 27, 2008 | By Gao Feng
(Clearwisdom.net) The Divine Performing Arts (DPA) New York Company staged a show in Cincinnati Music Hall, in Cincinnati, Ohio on December 23, 2008.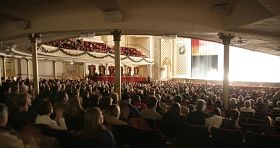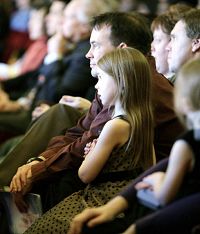 On December 23, 2008, Divine Performing Arts (DPA) New York Company held a show in Cincinnati Music Hall on the second stop of its global tour
The host organization of the Cincinnati DPA show received fourteen proclamations and congratulatory letters from various governmental officials in Ohio. They expressed their appreciation for DPA's efforts in promoting traditional Chinese culture through its ongoing tour of eighty cities across four continents. The mayor and city council issued a proclamation and congratulatory letter. Mayor Mark Mallory of Cincinnati proclaimed December 23 as Cincinnati DPA Day.
"DPA lets me know the true Chinese culture"
It snowed heavily on the day of the performance and some roads were closed due to slippery conditions. Nonetheless, many residents came out to see the long-awaited show. Many were impressed and moved by the performance and said they would come back again next year.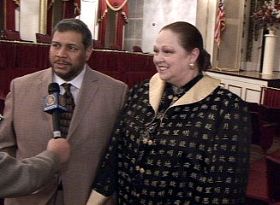 Mr. Palacios, owner of an import-export company, said the DPA show let him see a Chinese culture he does not see in today's China
Mr. Palacios runs an import-export company and often imports Chinese products. He said the DPA show let him see a culture that he does not see in today's China. He was curious about the culture prior to the Cultural Revolution in China and was happy to learn about traditional spiritual beliefs. He said, "We saw an unchanged culture. I appreciate this. I hope that one day we will really understand Chinese culture and language."
Mr. Palacios said that the performance showed him the essence of the traditional culture that was damaged in the Cultural Revolution in China. He said such complete culture is not evident in China today. He added that in the US we have freedom of expression. DPA professional artists can present the true Chinese culture that existed before the Cultural Revolution, something people might not know about without seeing the show.
Mr. Palacios said he especially liked the piece, "Monk Ji Gong Abducts the Bride." He said that the whole program demonstrated the spiritual beliefs of the Chinese people. "We belong to the same world. We need to learn more from Chinese people," said Mr. Palacios. He added that he had a feeling that Chinese people would help us to learn many things that Westerners don't understand.
Mrs. Palacios said, "We are pleased to know that DPA will perform in Columbus next Spring. We will bring others to see it."
A Chinese in Cincinnati: "It seems that I gained a new life"
A local Chinese woman, Miss Fa, is a lay Buddhist. She said, "I sense that the program depicts a wish, a new life that I have dreamed for and looked for. Thus I feel very moved."
Commenting on the Chinese Communist Party's persecution of Falun Gong, Ms. Fa said, "Truth is being persecuted in China. It is such a good Buddhist principle to teach people to be good. Why persecute it? I cannot understand it. Why is truth persecuted? I always think that human beings' moral values are degrading. I agree with the dance that shows the story [of the persecution]. The performance promotes human beings' moral values. It is what I'd like to do but don't know how to do. But they are not afraid of difficulties. They are against evil and promote righteousness to improve people's moral standards. This is to save people. I always appreciate religious belief. Falun Gong practitioners protest the evil under persecution. I admire them."
Mr. Huang Lianghua from Cincinnati said after the show, "I enjoyed the show very much. It is very rich and interesting. There are many ancient stories and legends. Fantastic!"
After the show in Cincinnati, DPA New York Company will travel on to its third stop, Chicago, where it will stage three shows on December 27-28.