Divine Performing Arts Completes Second Successful Performance in Sarasota, Florida (Photos)
December 25, 2008 | By Chen Zhenghong in Sarasota, Florida
(Clearwisdom.net) Divine Performing Arts Touring Company staged its second show at the Van Wezel Performing Arts Hall in Sarasota, Florida on the evening of December 23, 2008. Nearly 2,500 audience members cheered and gave the show a standing ovation. The performers answered two curtain calls in response to the enthusiastic and appreciative audience. The DPA shows were a great success in this second stop of its world tour.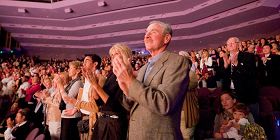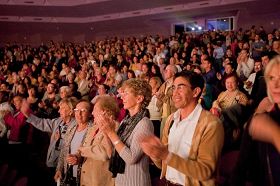 The audience gave a standing ovation after the second DPA show in Sarasota on December 23, 2008.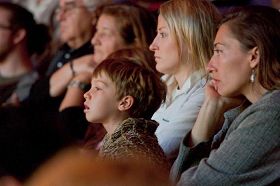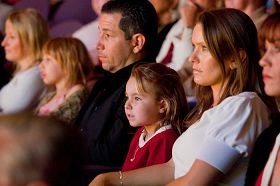 An attentive audience in Sarasota
Singer: A very moving performance
Vera, a singer, said excitedly, "It's really amazing, I can't believe that the performance was so fantastic, much better than I imagined. The performance presented culture, dances and other aspects." She added that it requires much effort to achieve this realm. She said that for many dance pieces, the dance and performers' movements helped her understand the stories portrayed.
Vera said that the whole show was very impressive, and she was moved. She had never seen such a brilliant performance, which almost brought tears to her eyes. She said that the dance, "Persecuted on a Sacred Path," touch her heart deeply.
Vera stressed that the choreography was just awesome, coupled with the dancers' exquisite movements, and outstandingly elegant music. She had never seen such a manner of expression. She said that the DPA show was unusual, as it seems that it covers all kinds of arts. Vera also experienced the spiritual level in the show, which she found to be rich in spirituality and emotions, and very inspiring.
Photographer: The Dancers' every move touched people's heart
Photographer Chris came to the DPA show with Vera. He said that the entire scenery was fantastic, produced with intricate details and much care, and full of innovation.
Chris added that he found the colors and choreography to be impressive. Every act and every move of each dancer touched his heart. The emotions that the performers intended to convey were easily understood without any language. The message about life that the show conveyed was that people should be self-aware and live a meaningful life.
Lawyer: A wonderful show, I fully enjoyed myself
Joyce, an attorney, said that she found the ancient-style costumes, singing and dances in the show to be marvelous, and she thoroughly enjoyed herself. She felt fortunate to be able to appreciate such a wonderful show. She said that the whole production, from every fine detail to the entire design, was excellent.
The Divine Performing Arts Touring Company completed its two shows in Sarasota, and will continue to the third stop of its world tour in Jacksonville on December 26, 2008. For more information about DPA, please visit http://DivinePerformingArts.org.