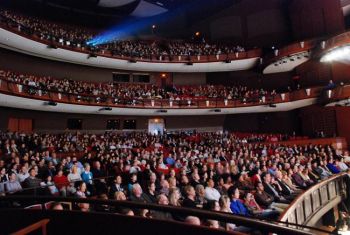 Audience watches the DPA performance in Atlanta on Dec. 19
"I would like to see more, I would like to have a deeper understanding," he said.

Mr. Papproth said the references to ancient Chinese beliefs were particularly of interest to him, noting the detail of Buddhas in the backdrops.
"I enjoyed more of the spiritual aspect of the performances. I didn't expect that, and I really enjoyed it."
Mr. Papproth's companion agreed.
"That helped us understand exactly how the Chinese view the spiritual aspect--that was very nice, very good, " he said.
"One of the great messages was that good people ... have a spirit that lives on, and I think that's very important.
"Life is difficult and for certain they are living in trying times right now and that was a very strong message I think everyone can take home with them."
Mr. Papproth's friend said he had gained an insight into Chinese culture and was surprised at the different dimensions it covered.
"The costumes, I thought, were absolutely stunning and the backdrops added a dimension that was really unusual.
"I hadn't realized how much interest there was in the little heaven scenes and the angels coming down and going back. This is something I didn't really realize was part of the Chinese culture."
The flower that was 3,000 years old, in the piece "The Udumbara's Bloom," impressed him the most, he said, but there were many other features in the show that made him glad to have seen the show.
"I think we were very fortunate to see the show tonight. We were very impressed with the delicacy and art that the Chinese culture presents here in the United States, and we thought the performance here was just beautiful.
"It's very rare that we get to see the historical culture of the Chinese country this way, in an art form, and we're just happy to be able to participate."