Fort Worth, Texas: Falun Gong Participates in Thanksgiving Parade (Photos)
(Clearwisdom.net) On the evening of November 28, Falun Gong practitioners participated in the 26th Fort Worth Thanksgiving Parade, which attracts tens of thousands local residents.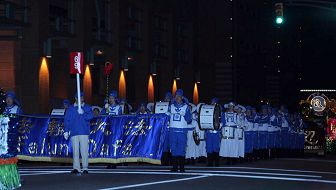 Texas Divine Land Marching Band participates in the parade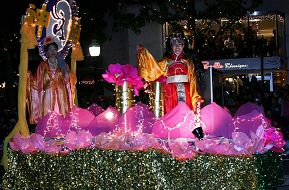 Falun Gong practitioners' float
The Falun Gong procession included the Texas practitioners' Divine Land Marching Band and a float promoting the Divine Performing Arts (DPA) World Tour. According to Ms. Zhang, the practitioners came from Houston, Austin and Dallas and they hoped that more people would learn about Falun Dafa and the DPA show from this parade.
The Divine Land Marching Band performed "Falun Dafa is Good", "Drums and Trumpets Shake the World in Ten Directions" and "America the Beautiful." This was their first performance since the band changed uniforms. Many spectators were amazed by the band. When the band passed by the main stage, the MC exclaimed: "What great looking uniforms!" Several conductors of other bands asked where this band came from. When they learned that members of Divine Land Marching Band came from different cities which are far away from each other, they expressed admiration for the practitioners' devotion and sacrifice. A retired marching band conductor asked for the Falun Dafa website in order to learn more about the practice.
A local resident noted the Divine Land Marching Band at the very beginning of the parade. When the parade concluded, he came and told members of the band that local people need to know what's happening in China, and the practitioners' presence has had a great impact.