U.S. Congressman Issues Proclamations Praising the DPA's High Quality Artistry (Photos)
December 16, 2008 | By a practitioner in Washington DC
(Clearwisdom.net) On December 11, 2008, Maryland Congressman Chris Van Hollen watched a short video from the Divine Performing Arts' world tour. Rep. Van Hollen was impressed with the high quality art the DPA presented and issued proclamations to the two sponsors of the 2009 DPA shows in Washington DC.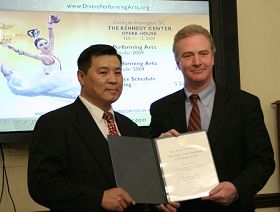 Congressman Chris Van Hollen (R-MD) issues a proclamation to the Washington DC Falun Dafa Association.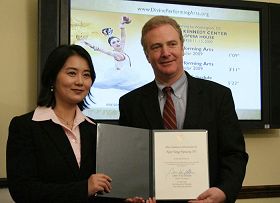 Congressman Chris Van Hollen (R-MD) issues a proclamation to NTDTV.
Professor Nie Sen of the Catholic University of America introduced Rep. Van Hollen to the 2008 DPA world tour, which gave 215 performances in 66 cities and was enjoyed by 600 thousand people.
Rep. Van Hollen praised the coming DPA performances in Washington DC, which are jointly sponsored by Washington DC NTDTV and the Falun Dafa Association. He commented that the DPA was an outstanding art group which provided unique art forms from traditional Chinese culture.
Rep. Van Hollen identifies with ancient Chinese traditions and virtues. In his six years in Congress, he has fought for the rights of minorities and focused on multicultural sharing and exchange. He sent a congratulatory letter to the DPA's first Holiday Wonders show at the Baltimore's Lyrics Opera House in 2007.
From 2007 to 2008, the DPA's performances have taken the world by storm while portraying the wisdom and resplendent divine culture of China's five thousand years of history. In many performances, it was not uncommon to see audience members shedding tears.
In 2009, the DPA's world tour will expand and present more shows to more people.
From February 11 to 15, 2009, the DPA will give six performances in the The John F. Kennedy Center for the Performing Arts in Washington DC.