Australia: Falun Gong Practitioners Gather Outside Prime Minister's Office to Protest Zhou Yongkang Visit (Photos)
November 08, 2008 | By Chen Xinning
(Clearwisdom.net) On the afternoon of November 3, 2008, Falun Gong practitioners held a press conference in front of the Brisbane Provincial Parliament building and called on the Australian Government to deny entry to Zhou Yongkang, Head of the610 Office and Secretary of the Political and Judicial Committee of the Chinese Communist Party (CCP). The 610 Office was established for the express purpose of persecuting Falun Gong.
Peaceful protest outside of Prime Minister Kevin Rudd's office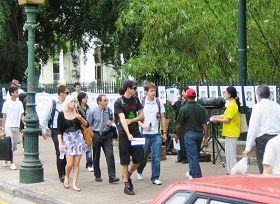 People pay attention
Ken Francis, representative of National Civic Council
Falun Gong practitioners held banners and posters condemning Zhou Yongkang's crimes. A practitioner from the Queensland Falun Dafa Association pointed out that the Australian people have the right to know about Zhou's numerous crimes in the persecution of innocent Falun Gong practitioners. It would not be fitting for the Australian government to spend tax money entertaining such a criminal. She hoped that the Australian people and media will call on the government to cancel Zhou's visa and deny his entry into Australia.
Ken Francis, a representative from the National Civic Council, said Australia should not welcome a criminal like Zhou. He pointed out that Zhou Yongkang represents a CCP regime that suppresses people. Zhou has committed many crimes in the persecution of Falun Gong, and his visa should be denied.
Linda Smith from the Coalition to Investigate the Persecution of Falun Gong (CIFPG) said Australia had no reason to invite Zhou Yongkang. She pointed out that Zhou was Minister of Public Security and China's public security did not improve during his term; in fact the crime rate rose every year. Zhou ordered 610 Offices across the country to persecute Falun Gong. She called on the Australian Government to deny his entry and help end the persecution of Falun Gong.
After the activity in front of the provincial parliament, the practitioners went to Prime Minister Rudd's office and held a peaceful protest. Mr. Francis from the National Civic Council delivered a letter to the Prime Minister's office expressing their objections to Zhou's visit.