Asia Falun Dafa Experience Sharing Conference Held in Korea (Photos)
(Clearwisdom.net) On November 1, the 2008 Asia Falun Dafa Experience Sharing Conference was held in Seoul City University, Korea. More than 1,500 practitioners from Japan, Taiwan, Hong Kong, Macao, Indonesia, Malaysia, Singapore and Korea attended this conference, in which sixteen practitioners shared their cultivation experiences.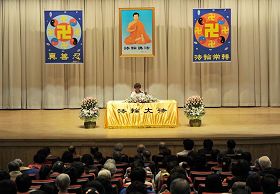 2008 Asian Falun Dafa Experience Sharing Conference held in Seoul City University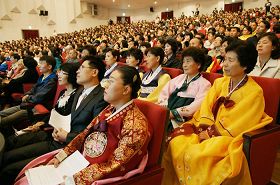 Conference audience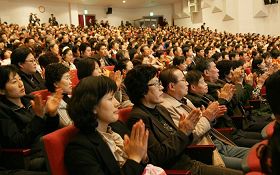 Conference audience
Korean practitioner Zhen Xuanshu is over 60 years old, and he shared his unique cultivation experience. In the past year or so, he has been manning the Seoul Quitting CCP Booth near the Chinese Embassy. Though he doesn't speak fluent Chinese, he has managed to help more than 9,000 Chinese people quit the CCP and its affiliated organizations. Mr. Zhen said, "One day, I met a man in his fifties. This man told me that he was serving in the Liberation Army in 1989, and he drove a tank to Tiananmen Square to crack down on the pro-democracy movement. The man said that he regretted his actions greatly. The man cried and told me, 'We were so ignorant and did a bad thing. Today, I am so touched to see people like you working so hard and selflessly for our Chinese people. I hope that I see the collapse of the CCP in my lifetime.' The man then signed his name to quit the evil party and took a copy of the Nine Commentaries on the Communist Party with him."
Practitioner Gao Chengnu was detained and tortured in a Chinese labor camp for over a year, and she shared her cultivation experience after she was rescued to Korea. At the Quitting the CCP Service Booth at the Seoul Border Entry, Gao and her team on average helped over 100 Chinese people to quit the CCP every day. For example, on October 22, 205 Chinese tourists quit the CCP at their booth. Ms. Gao also shared a unique story that happened last August. She said, "One day, a Chinese Communist agent came to our booth and tried to interfere with our activities. We told him the facts about Falun Gong and advised him to stop what he was doing for his own benefit. On the second day, he came again. After talking with us, this man decided to quit the CCP. On the third day, he came and told me, 'You are a person with a pure heart and you are very sincere!'"
The experience sharing conference reached a successful conclusion at 5 p.m.